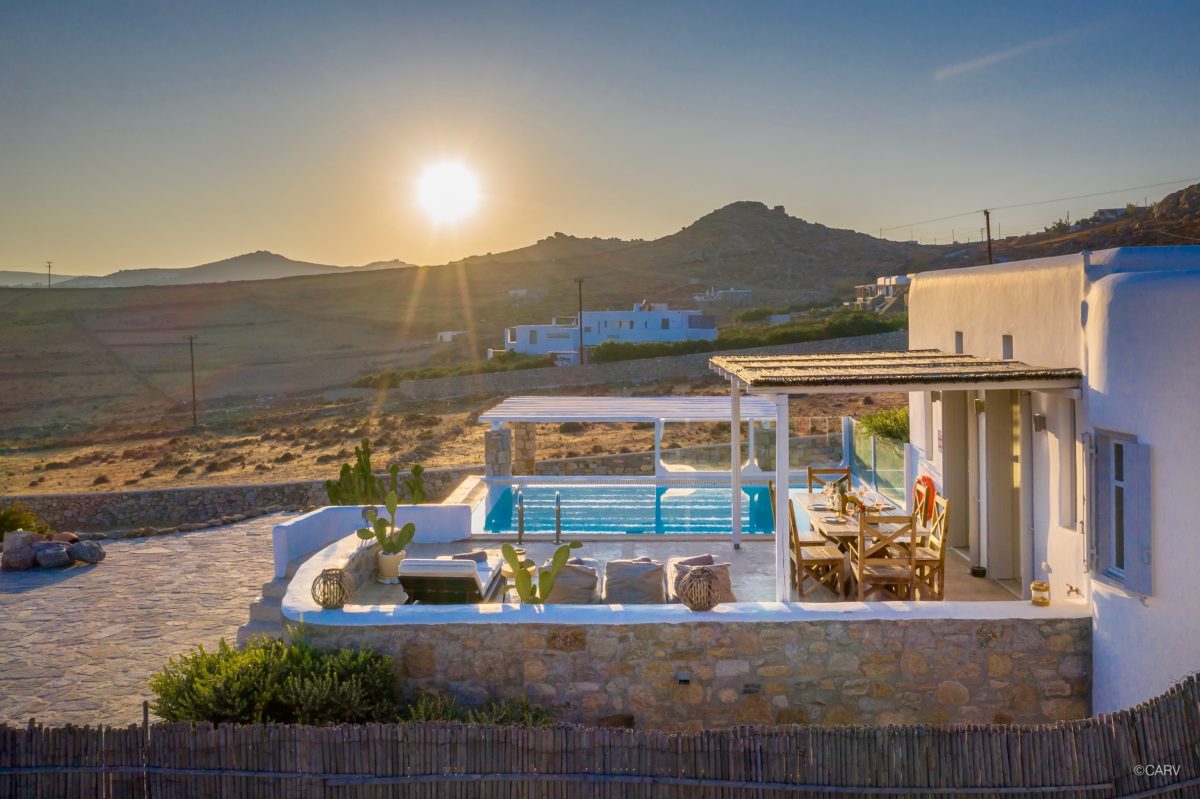 Mykonos Villas Rentals 2022
Posted on
September 7, 2021
Mykonos Villa Rentals 2022
Mykonos has become the number one holiday destination in Europe.
With Villa stays now topping the list, so how much does it cost to rent a villa in Mykonos?
The island is popular with the rich and famous with a huge selection of super-luxury villas at super luxury prices.
Is it possible to find good value villas on the island, well it depends what your view is of good value, generally rates are about double of Ibiza which will give you a good idea of what you will be expected to pay.
Summer 2022 is going to be massive for Mykonos and if you are thinking to rent a villa during the high season it would be advisable to book as far in advance as possible.
Will the villa rental rates increase for summer 2022?
The simple answer to that question is yes!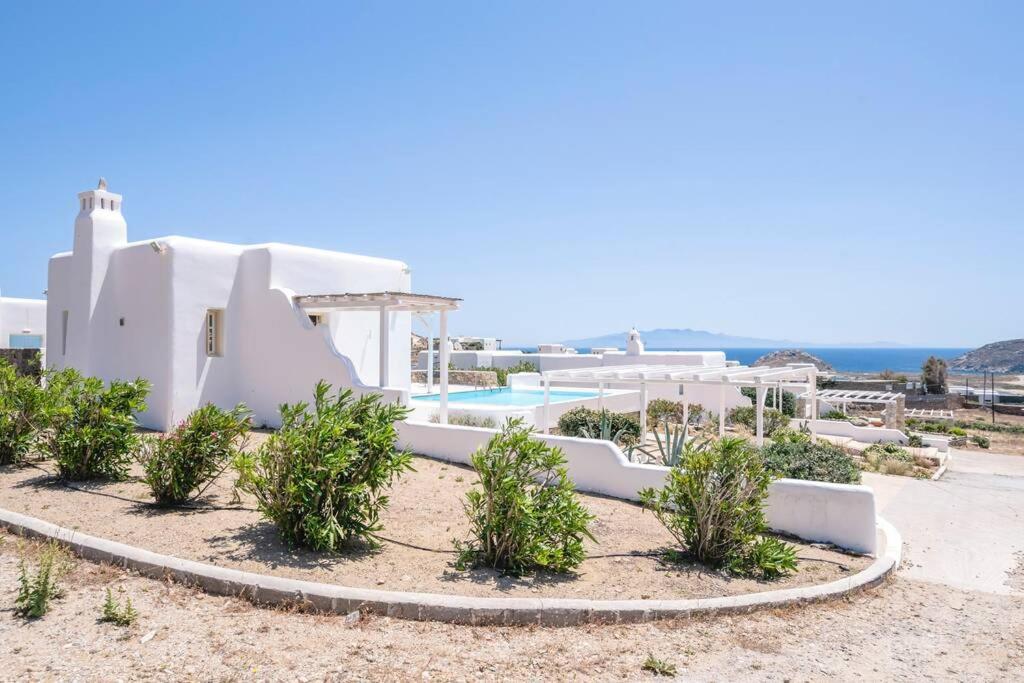 Kalafatis Blue
Beach Villa
Ideal family and friends
New Villa | 3 bedrooms
Private Pool & Sea view
Modern 3 bedroom Villa within walking distance to the beautiful beach of Kalafatis.
The villa offers excellent value and is the perfect option for those looking to enjoy the quieter side of Mykonos.
View Kalafatis Blue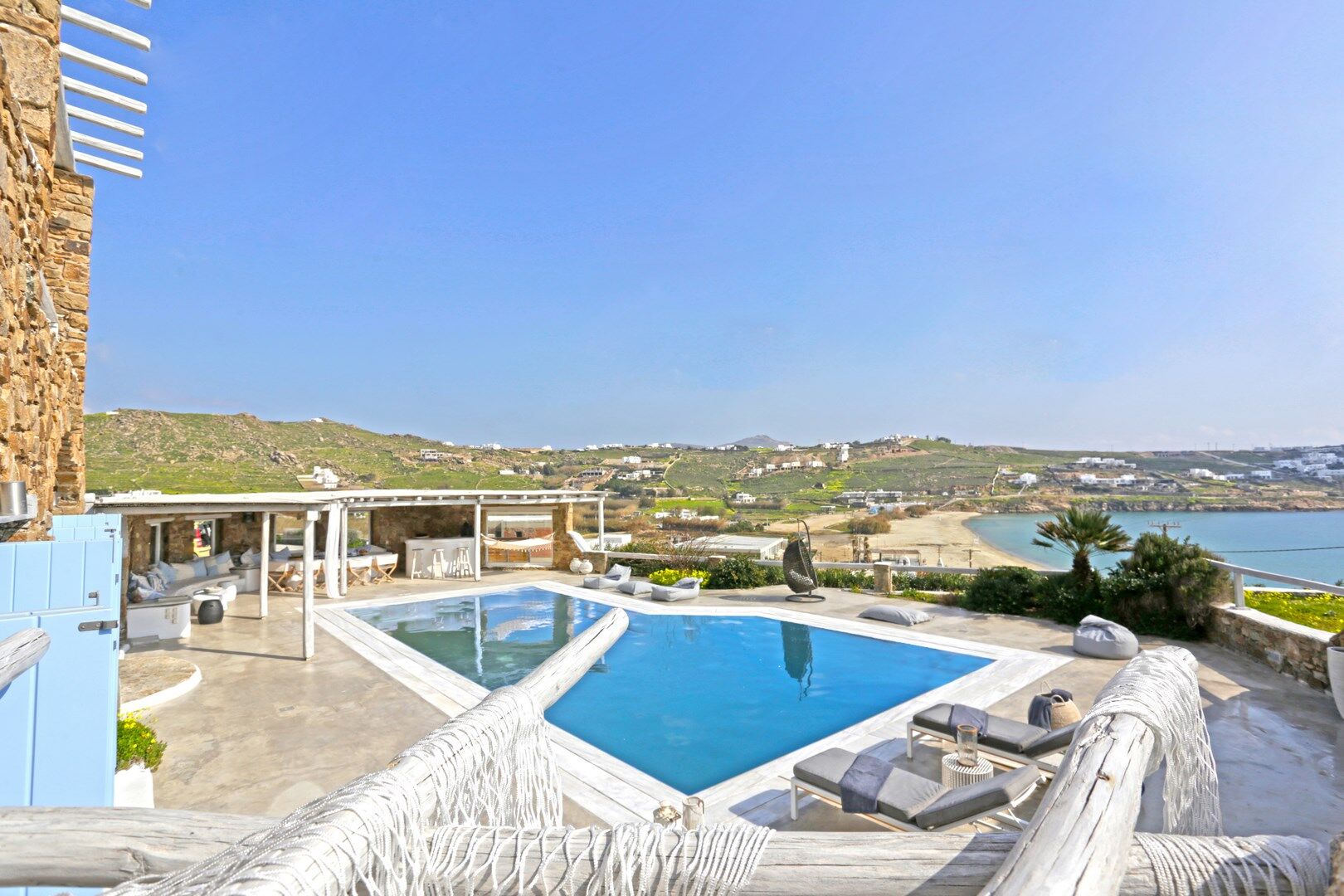 Villa Kalos
Kalo Livadi Beach
Groups of friends or 2 families holidaying together
6 Bedrooms
Sleeps 10 adults & 2 children
Excellent value villa in a prime location overlooking the beach of Kalo Livadi.
Offering spacious living accommodation for up to 12 people, a private pool, and stunning sea views
View Villa Kalos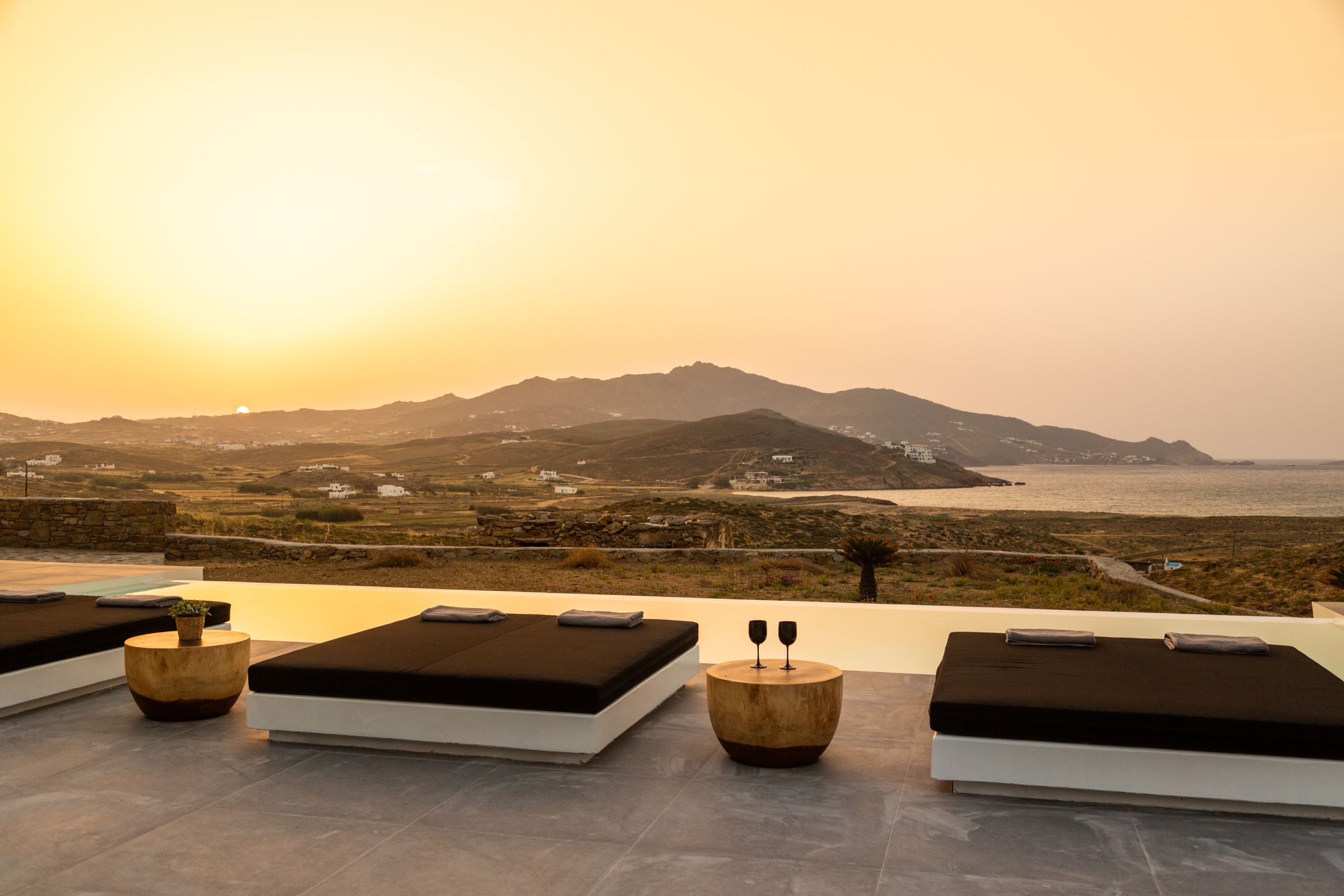 Villa Avi
Ftelia
Small Complex of new luxury villas
Sleeps 6 | 3 bedrooms
Private Pool
Brand new complex of stylish villas with wonderful views and walking distance to Ftelia beach.
Ideal for family or friends holidaying together, villas can be rented individually or as a group.
Sister villas feature 3 or 4 bedrooms and all have private pools.
View Avi Ftleia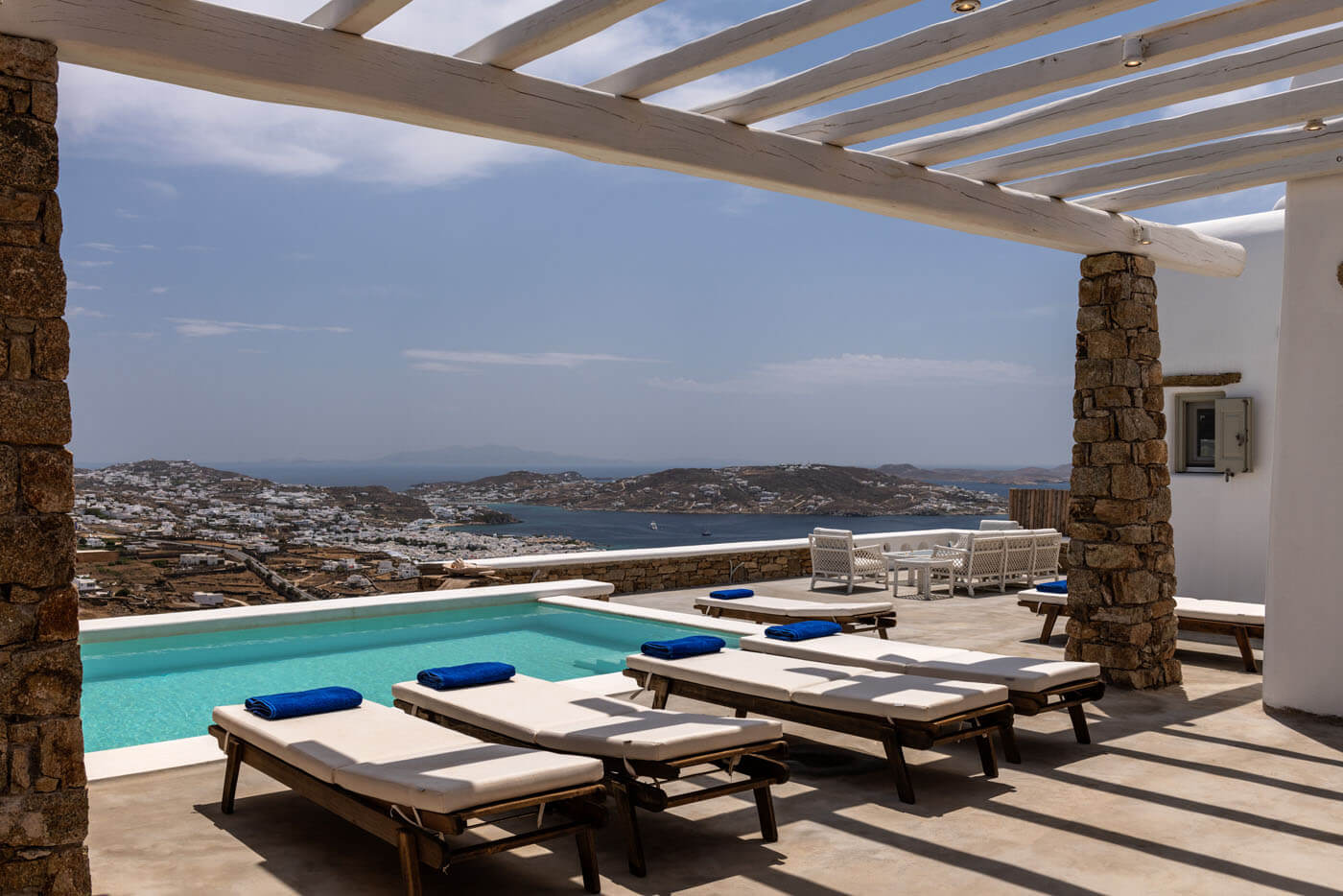 Agia Sofia Villas
Stunning  Sunset Views
Collection of 1 & 2 Bedroom Villas with Private Pools
Perfect for friends or couples
Near Mykonos Town
A collection of small luxury villas close to Mykonos Town and with stunning views towards the island of Delos.
Each villa offers an open-plan living area with a well-equipped kitchen.
Step outside onto the terrace with a private plunge pool, sun loungers, and dining area.
View Agia Sofia Villas
Aleomandra Cove
Luxury Beach Villa
Near Ornos and Mykonos Town
6 bedrooms | Sleeps 12
Private Pool and beach access
Stunning new luxury villa in a prime location overlooking the sea and just a short distance from both Ornos and Mykonos town.
The property offers spacious living accommodation over 2 levels and can comfortably sleep up to 12 guests.
Ideal for people looking for a top luxury villa.
View Villa Aleomandra Cove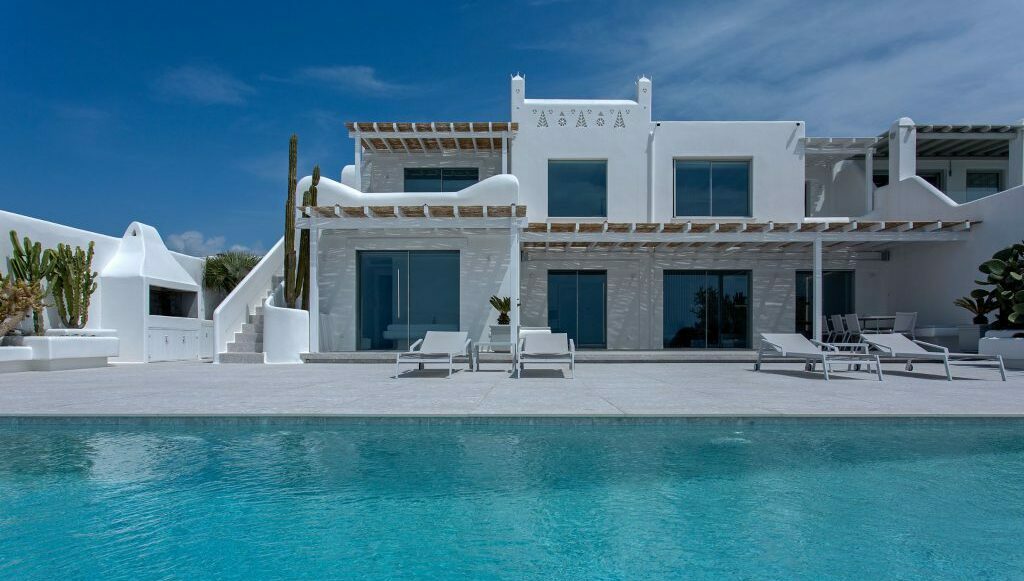 Villa Sarosa
Near Mykonos Town
Beautiful Sunset Views
Sleeps 10 | 5 bedrooms
Private Pool
Spacious 5 bedroom villa with great views and close to Mykonos Town.
The villa is spread over 2 levels and offers facilities including a private infinity pool.
Ideal for families, friends, or couples wanting a high-end villa near Mykonos town.
View Sarosa Mykonos Town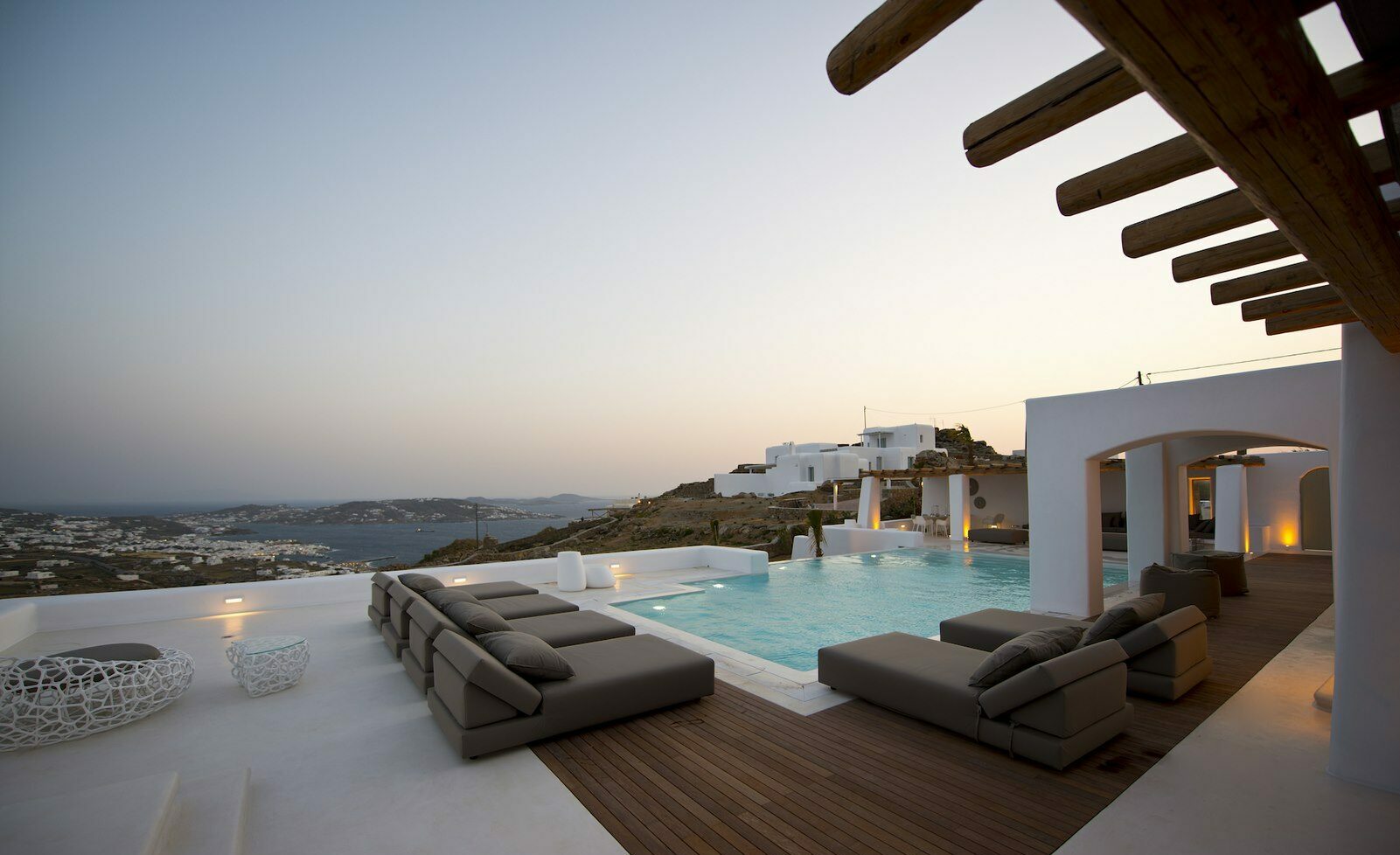 Tourlos Luxury Estate
Weddings & Special Occasions
Stunning Sunset Sea Views
17 bedrooms | Sleeps 38
Private Pools and Jacuzzi
Amazing private estate with 2 luxury villas plus 2 independent stylish suites.
Offering adaptable accommodation for large groups wanting to enjoy special time together in a perfect location.
View Tourlos Private Estate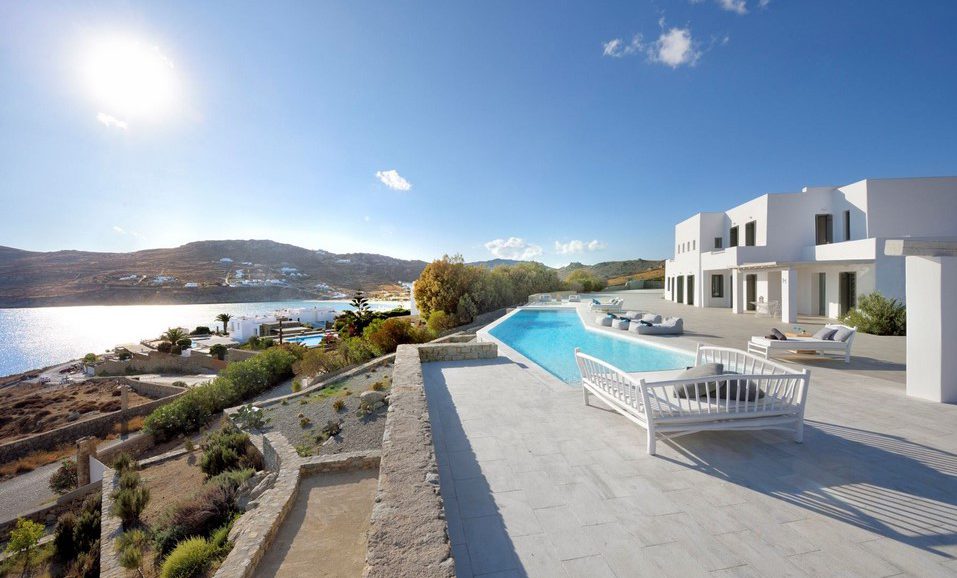 Kalo Livadi Beach Villas
Weddings and Special Occasions
One of the top villa rentals in Mykonos
18 bedrooms | Sleeps 36
Stunning location next to Kalo Livadi Beach.
This amazing villa is the ultimate holiday rental.
Built of 4 levels to the highest standards of comfort
With 18 bedrooms making it the perfect choice for a luxury wedding on the island of Mykonos.
View Kalo Livadi Beach Villa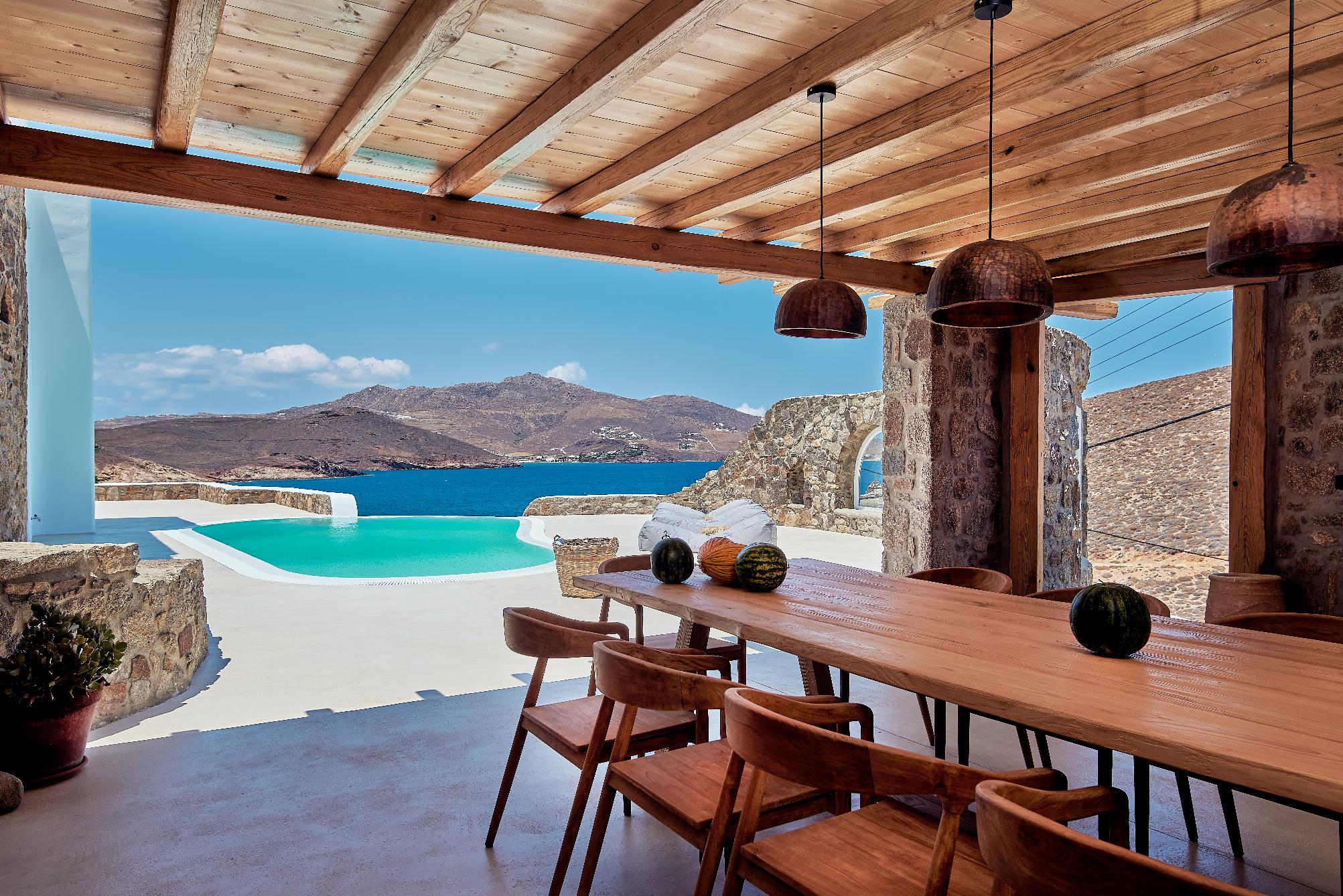 Villa Fysi Ftelia
Beach Villa
Ftelia Beach
6 bedrooms including a number of guest houses
Private Pool
Modern Luxury Villa in an excellent location being a short walk to the popular beach of Ftelia.
Ideal for groups of friends, families, or couples with spacious flexible accommodation.
Short drive to Mykonos Town and the village of Ano Mera.
View Villa Fysi Ftelia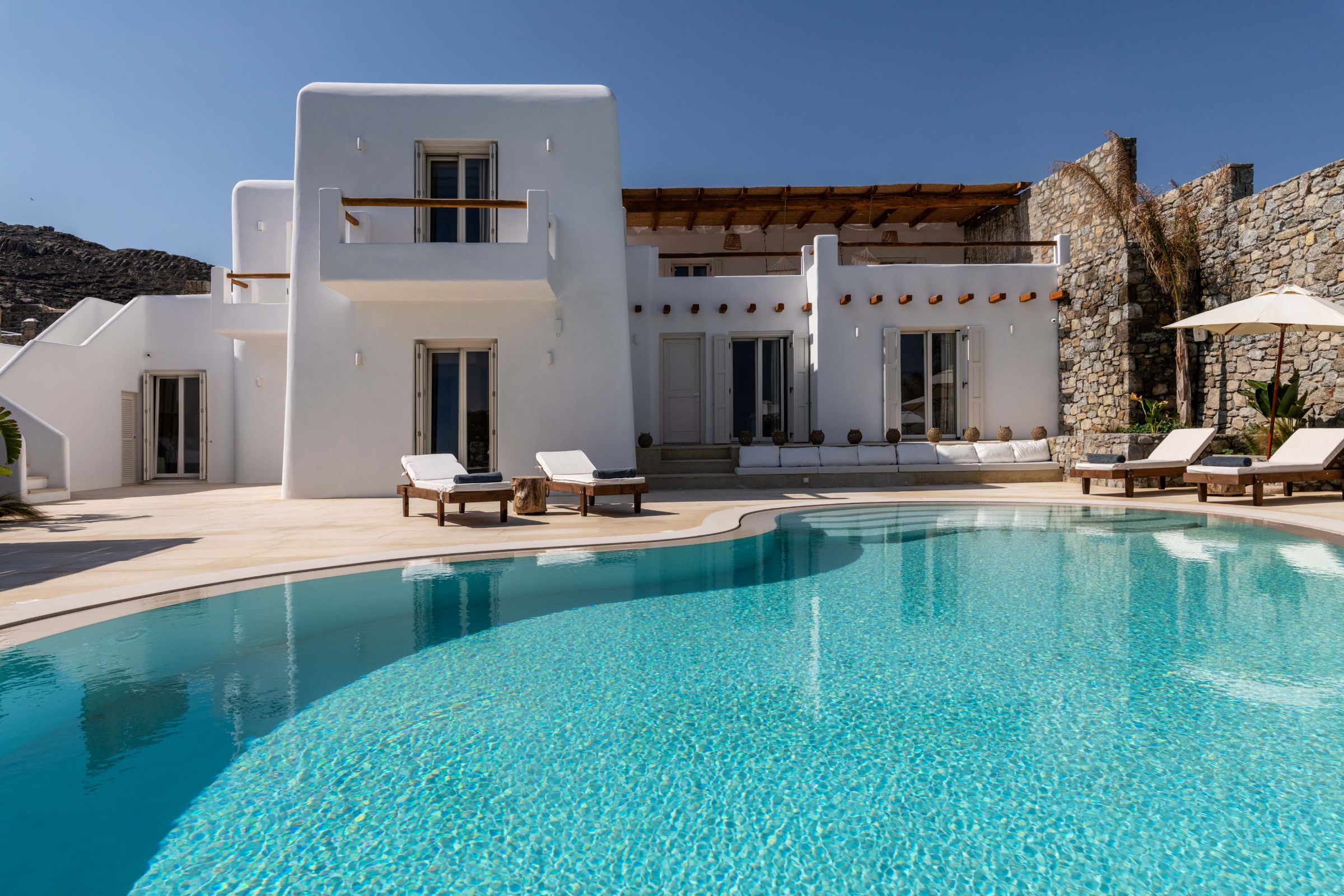 Villa Anisia Kanalia
Luxury 8 Bedroom Villa
Built over 2 levels | Tastefully furnished
Near to Ornos beach and Mykonos town
Stylish villa offering excellent accommodation and facilities. 
The villa is built over 2 levels and features a large private terrace.
The villa offers very adaptable accommodation including 2 guest houses, making it ideal for 2 families holidaying together, couples or groups of friends.
Beautiful villa in a great location.
View Villa Anisia Kanalia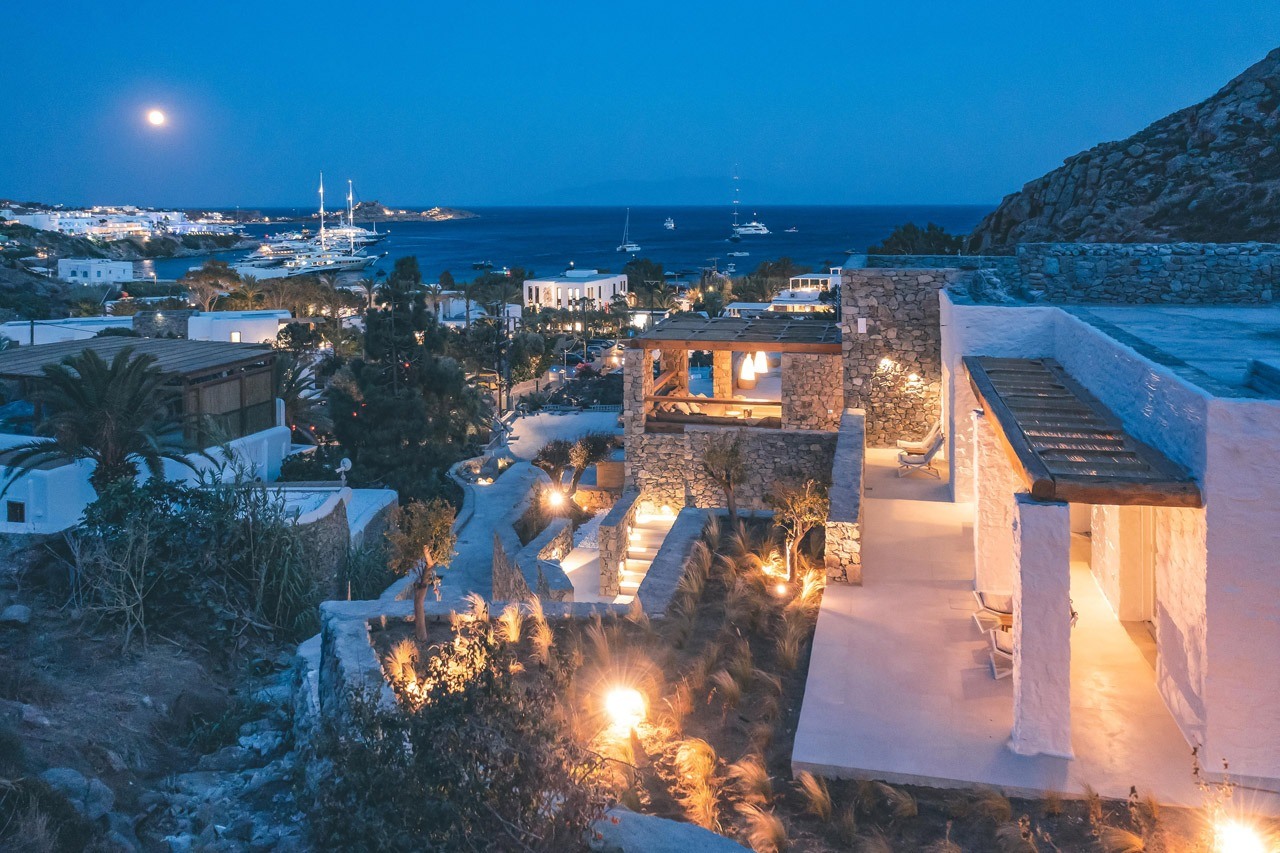 Psarou Grand Retreat
Beach Villa
Nammos beach club 2 minutes | Short drive to Mykonos Town
Luxury Villa 2 minutes walk to Psarou Beach
4 double en suite bedrooms
Spacious terrace with Private Infinity Pool
Brand new luxury villa set in a prime location
Private pool | Shaded dining area | Stunning views of Psarou Bay
Full use of Luxury Boutique hotel facilities, just 250m from the villa.
View Psarou Grand Retreat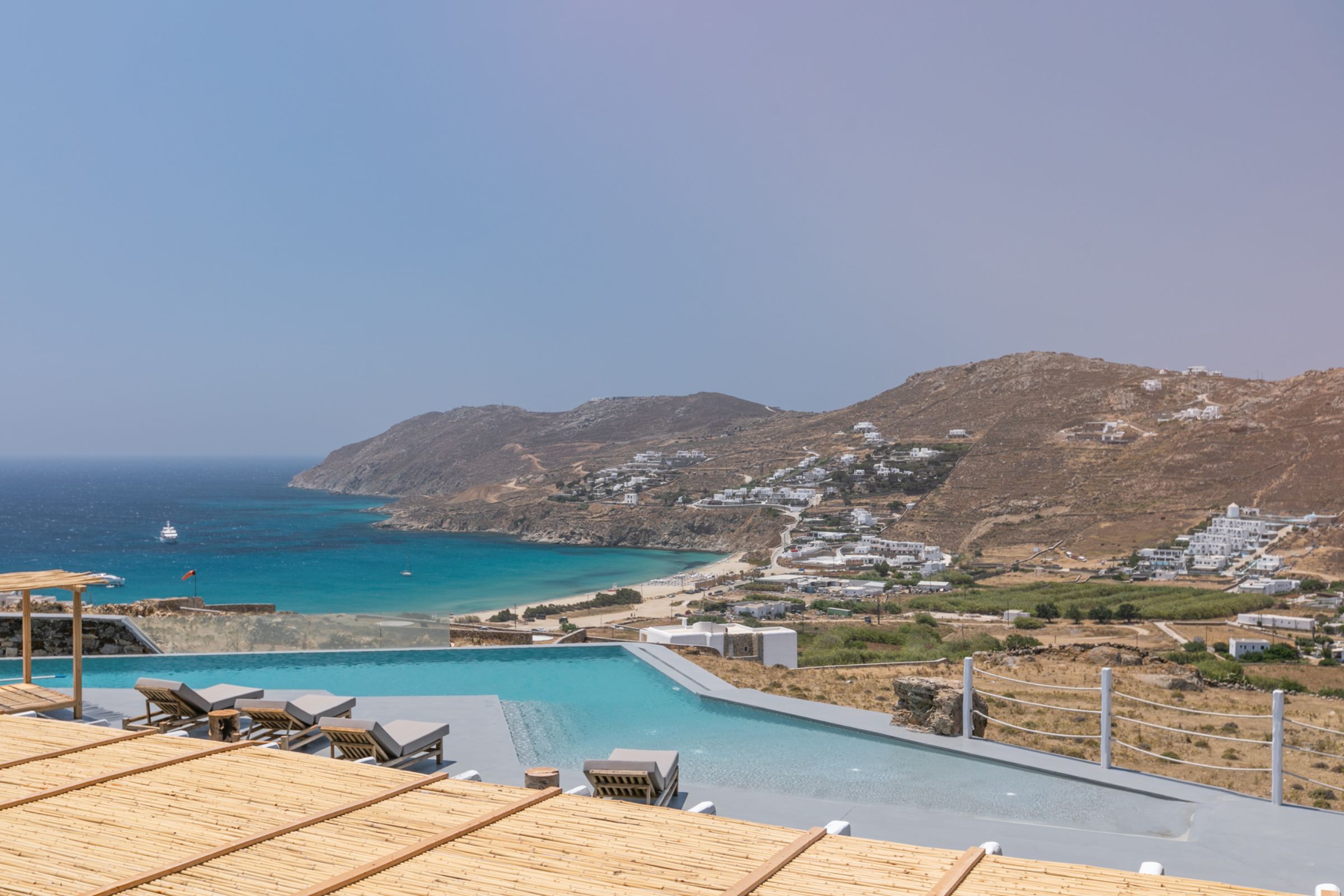 Kalo Private Estate
Luxury 20 Bedroom Villa
A complex of 3 villas built over 3 levels
Fabulous views over the bay of Kalo Livadi
Private location ideal for weddings and special occasions
Large terrace that can accommodate up to 500 guests.
Private Pools | Gym | Professional kitchen
Spacious and adaptable accommodation for up to 40 guests
Two adjoining suites with private plunge pools.
View Kalo Private Estate