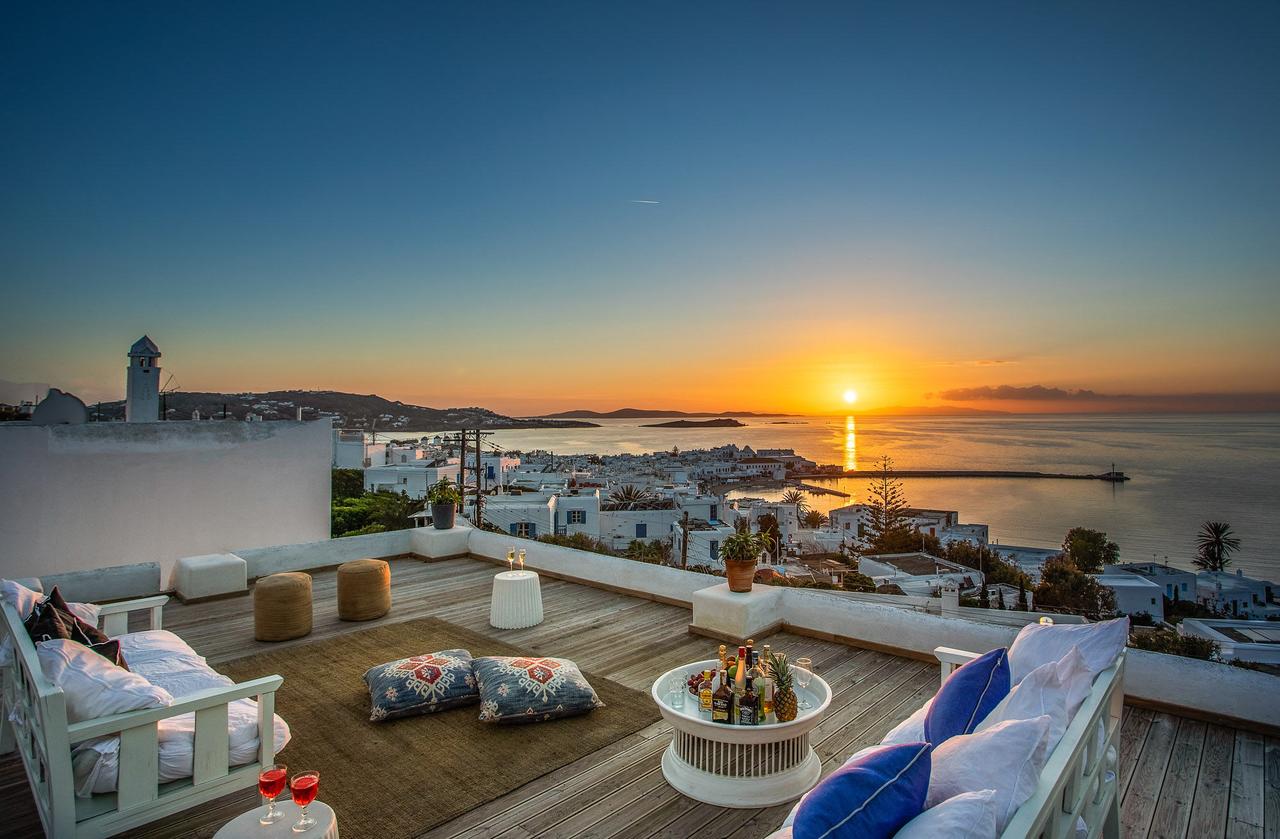 Where to Stay in Mykonos
Posted on
February 18, 2020
Where to stay in Mykonos
Town or Beach?
Hotel, apartment or holiday villa rentals?
Where is the best place to stay in Mykonos and what accommodation is the best option for your holiday?
This really depends on a number of factors which include how many people you are travelling with and what kind of experience your looking for when visiting Mykonos.
The town has many hotels, small accommodations, a number of quality apartments and a sprinkle of villas for rent.
If you want some privacy then a villa is a great choice but car hire may be required to make life easy.
Where to stay in Mykonos.
Mykonos Town
Staying in the town is the best option for many visitors as it offers great restaurants, cafes, bars and some of the best shopping in Greece.
Poping down to the bakers mid morning to enjoy a fresh patry and a nice coffee is one of the joy's of visiting Greece to just sit back watch the local life and enjoy the atmosphere.
This is what you get staying in the town, also with a great bus service operating to the beaches throughout the day what more can you want?
Villas in Mykonos Town
There is a number of high-quality villas located in and around the town for small and large groups.
Villa Thanos is a beautiful 2 bedroom villa with a private pool and great views over the town. The shops, cafes, and restaurants are just a few minute's walk from the villa.
For larger groups take a look at a fully reformed Mansion house which offers a large terrace with a private pool and stunning views over Mykonos town, this house features 5 bedrooms and 5 bathrooms.
Another 5 bedroom villa again with views over the waterfront of Mykonos town is the Residence Mykonos Town. This house features a lovely private pool and a large terrace which is perfect for early evening drinks while enjoying the amazing sunsets.
If your a couple wanting something a little different then maybe a stay in a restored windmill may be of interest?
One of the famous Mykonos Windmills is now available as a holiday home with a good-sized double room and of course a unique location.
Little Venice is one of the places in Mykonos everybody wants to see when visiting the island, well why not stay in this cute little village house with private rooftop jacuzzi.
Villa Venezia is perfectly located and enjoys great views from the rooftop terrace, enjoy a drink and take in the sunset!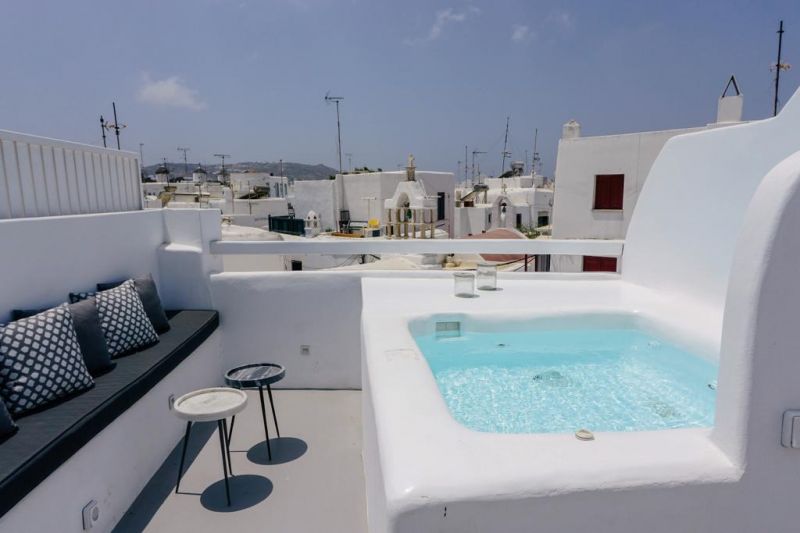 This villa could not be better if your looking for a little bit of tranquility but still wanting to be close Mykonos town and all it has to offer.
Villa Jardin features 5 bedrooms, a lovely garden setting with a good sized private pool.
Would you like to stay on the waterfront of Mykonos town?
Villa Pani could be what you are looking, this spervbly reformed home occupies a prime location above the restaurants dotted along the waterfront. Offering 4 bedrooms, large terrace and the use of a hotel pool and it's facilities nearby.
For town center apartments take a look at AK Apartments which are located in the town center and offer either 1 or 2 bedroomed units.
They are beautifully furnished and open all year.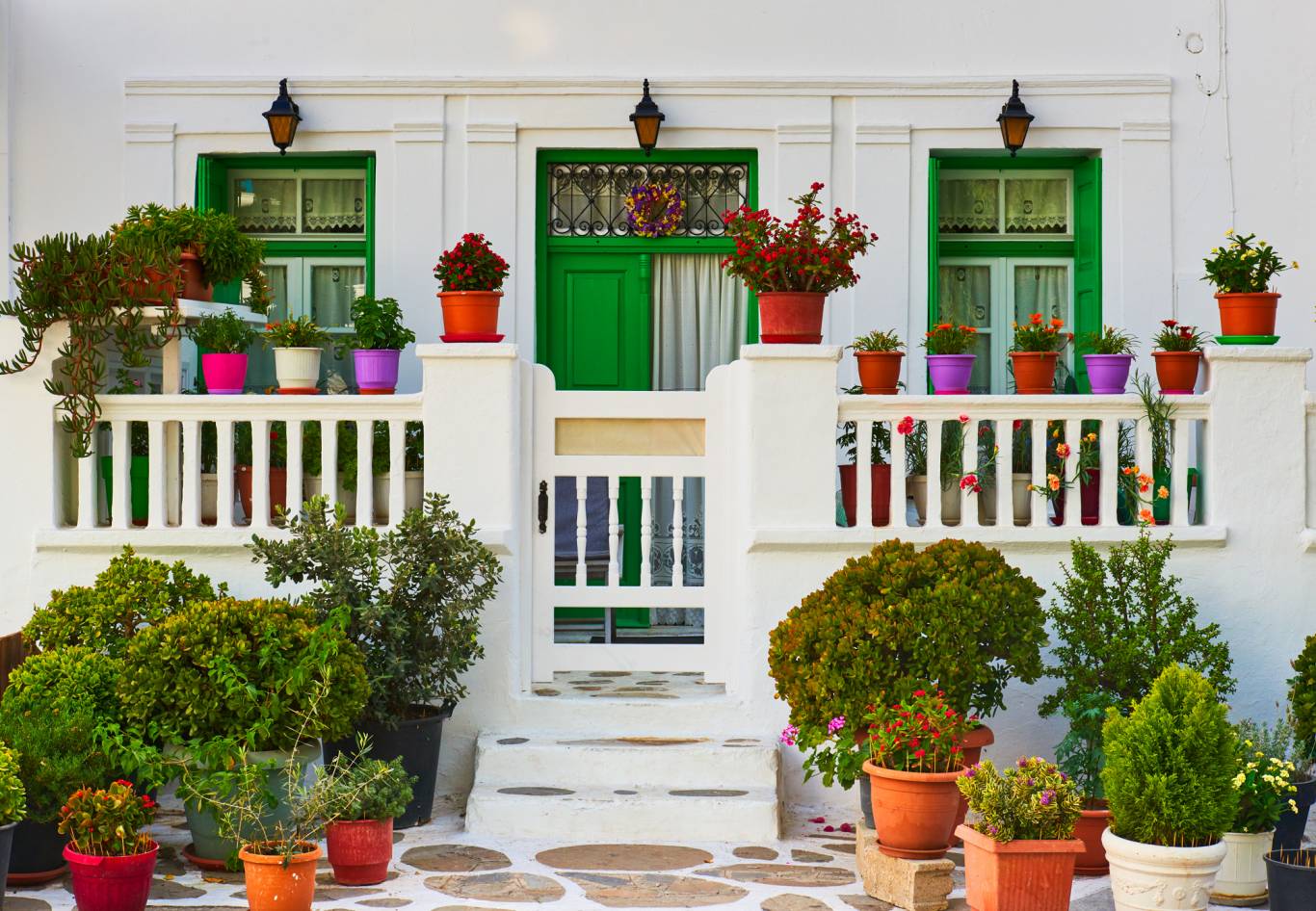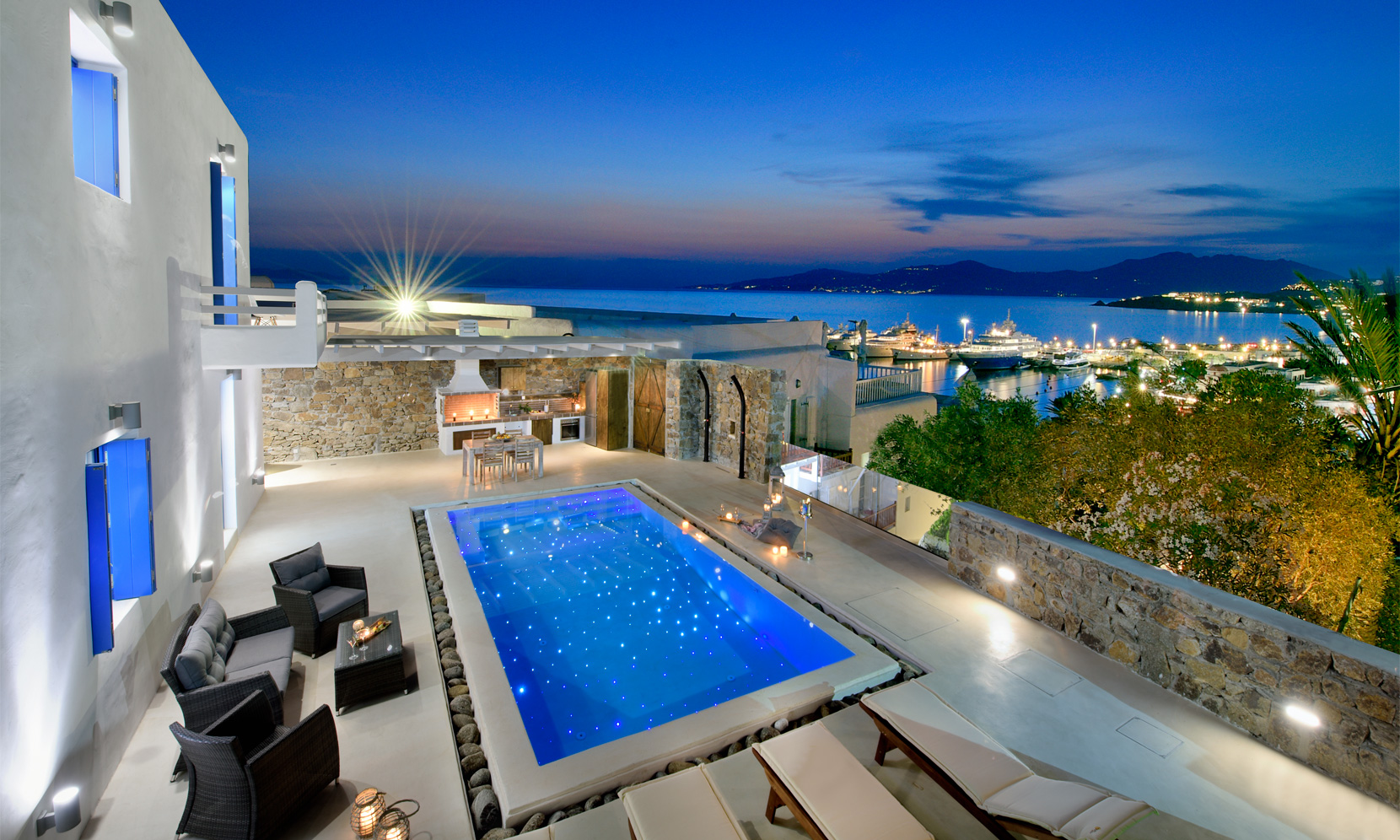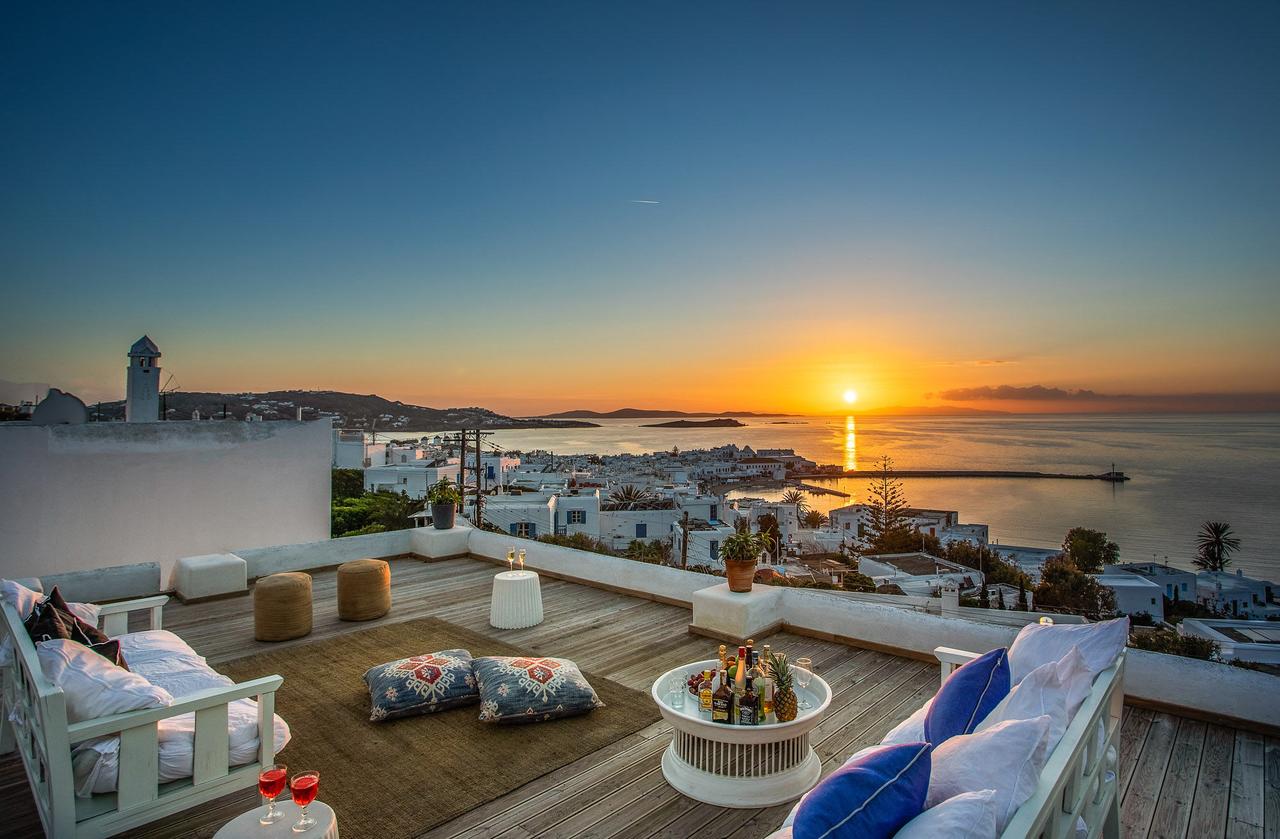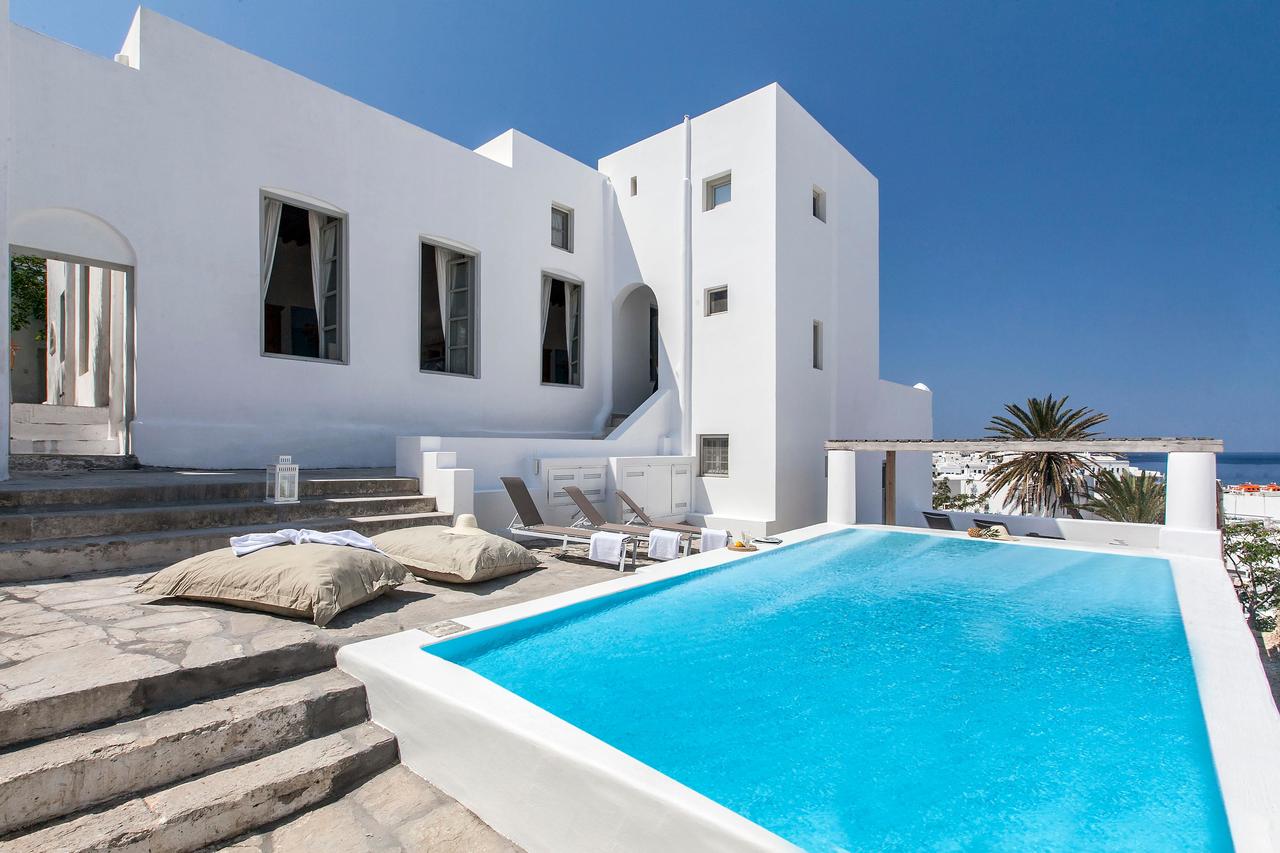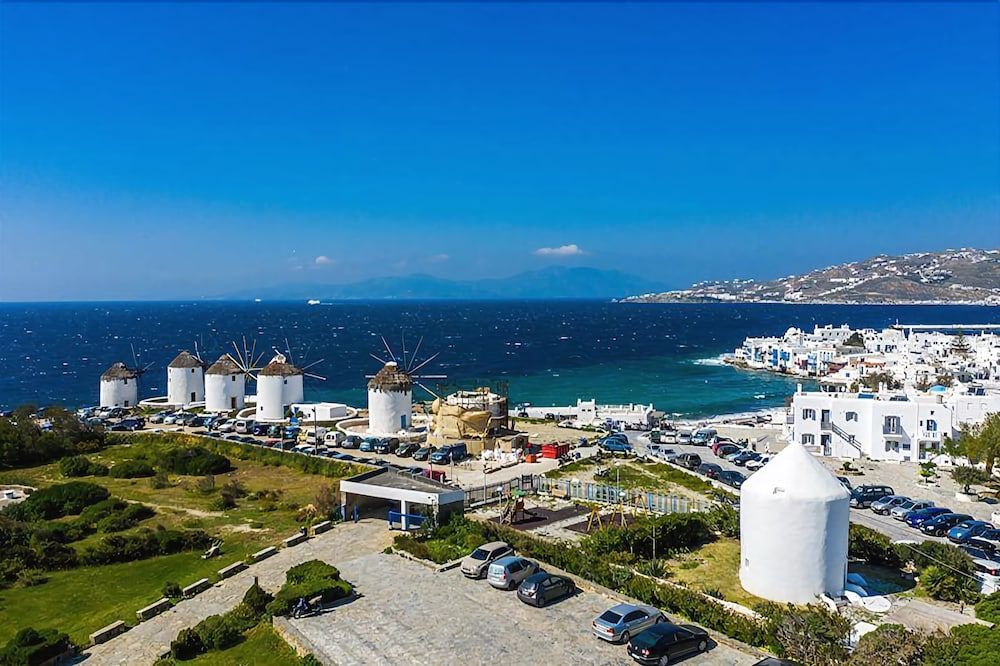 Mykonos has a great selection of stylish hotels close to the town, take a look at our suggestions of Mykonos Luxury Hotels.
Every summer new properties open their doors with amazing facilities, stylish rooms and personal Mykonian sevice.
Mykonos Beaches
Mykonos has some wonderful beaches located all around the island, the beaches along the south and east of the island are best proteceted from the sometimes strong Meltemi winds.
Close to town the popular beaches of Psarou, Platis Yialos, Paraga and Paradise are great options if you also want some daytime party beach life, with restaurants and beach loung clubs all on offer.
Ornos is a small seaside town with a good sandy beach and excellent facilities plus this a departure point for the water taxis that go along the coast conecting the most popular beaches.
Going further along the coast the famous Super Paradise beach has a good selection of accommodations mainly being apartments and luxury villas with private pools.
The area of Elia is an up and coming holiday destination in its own right with excellent beach facilities and many villas now being built in this area, some high end hotels are also available.
For something a little quieter the areas of Kalo Livadi, Agia Anna and Kalafatis are the perfect choice making them great for families and also those looking for a more relaxed atmosphere.
The beach of Lia which is located on the east coast is ideal for an away from it all experience with a great beach and also just 25 mins from Mykonos town.
Just to the north of Mykonos town the area of Agios Stefanos has plenty of accommodation and also a good beach with excellent facilities including a beach restaurant/bar.
The bays of Panormos and Ftelia are also becoming popular as this area is not so busy and has a constant wind blowing through the hot summer months, making it an ideal choice for kite surfers.
Mykonos has many excellent villas located near to some of its gorgeous beaches, nearer the beach the higher the rental rates.
The villas located close to the most popular beaches of Paraga, Super Paradise, Psarou and also around the area of Ornos often have higher rates.
Villas located in the quieter beaches of Ftelia, Kalafatis, Kalo Livadi and Lia are generally a better option if your trying to find a better value, also Elia has some amazing villas for rent.
Take a look at our collection of Mykonos Beach Villas located all around the island offering from small cosy villas for 2 people to large properties for over 30 guests.
Villa Livadi is an excellent beach villa overlooking the bay of Kalo Livadi with 5 bedrooms, a spacious sun terrace and a private pool, great for families or friends.
In the same area is the Villa Kalos which is a little bigger with 6 bedrooms, a private pool and also beautiful views of the bay and just a few minute's walk to the beach.
Villa Agios Sostis is a lovely house for a couple of families or a group of friends traveling together.
Located just above the quiet beach of Agios Sostis which offers a fantastic small traditional-style beach taverna, hard to find in Mykonos nowadays.
Want to be near the action of Super Paradise then maybe this gorgeous villa would be ideal if you have a group of up to 12 people.
With stunning views, 6 bedrooms a private pool and a private plot of around 2000sm Villa Casa Azul is a perfect choice for a memorable holiday near this world-famous beach.
A great value villa close to the beach of Elia with 4 bedrooms, private pool and lovely sea views is Villa Aliki, this property is new and offers excellent facilities.
Great for couples, friends or a family looking for a smart place to stay near the beach.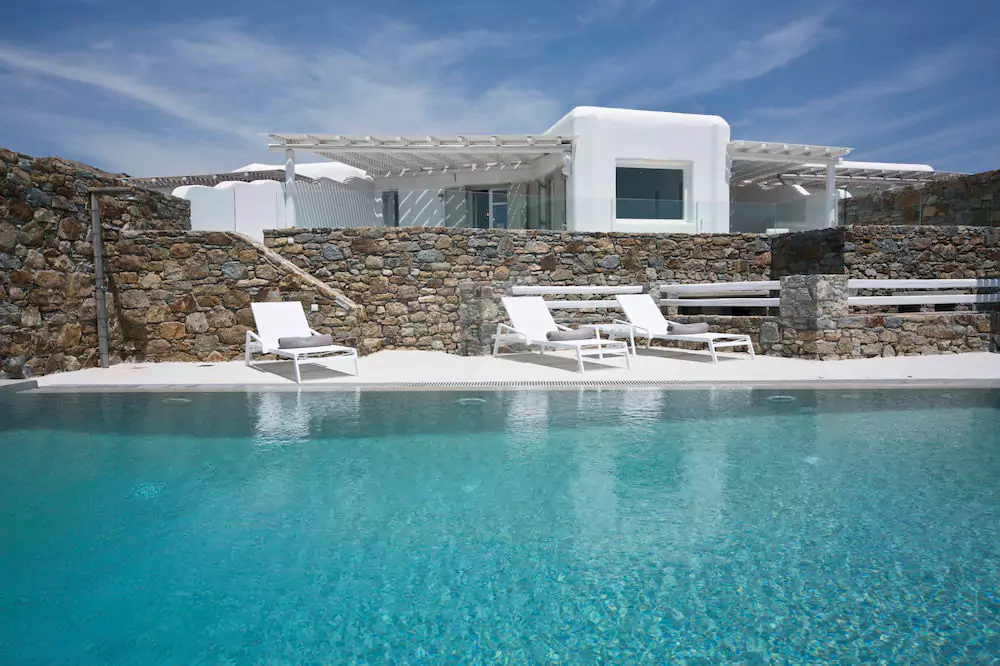 The island has many amazing hotels and each year new hotels open trying to be even better than what is already on offer.
Take a look at our collection of Luxury Greek hotels which include some beautiful properties dotted around the coast and also near the main town of Mykonos.
Should you be looking for a small family run hotel or something a little grander you are sure to find what you want in Mykonos, many superb Boutique hotels are now available on the beautiful holiday island.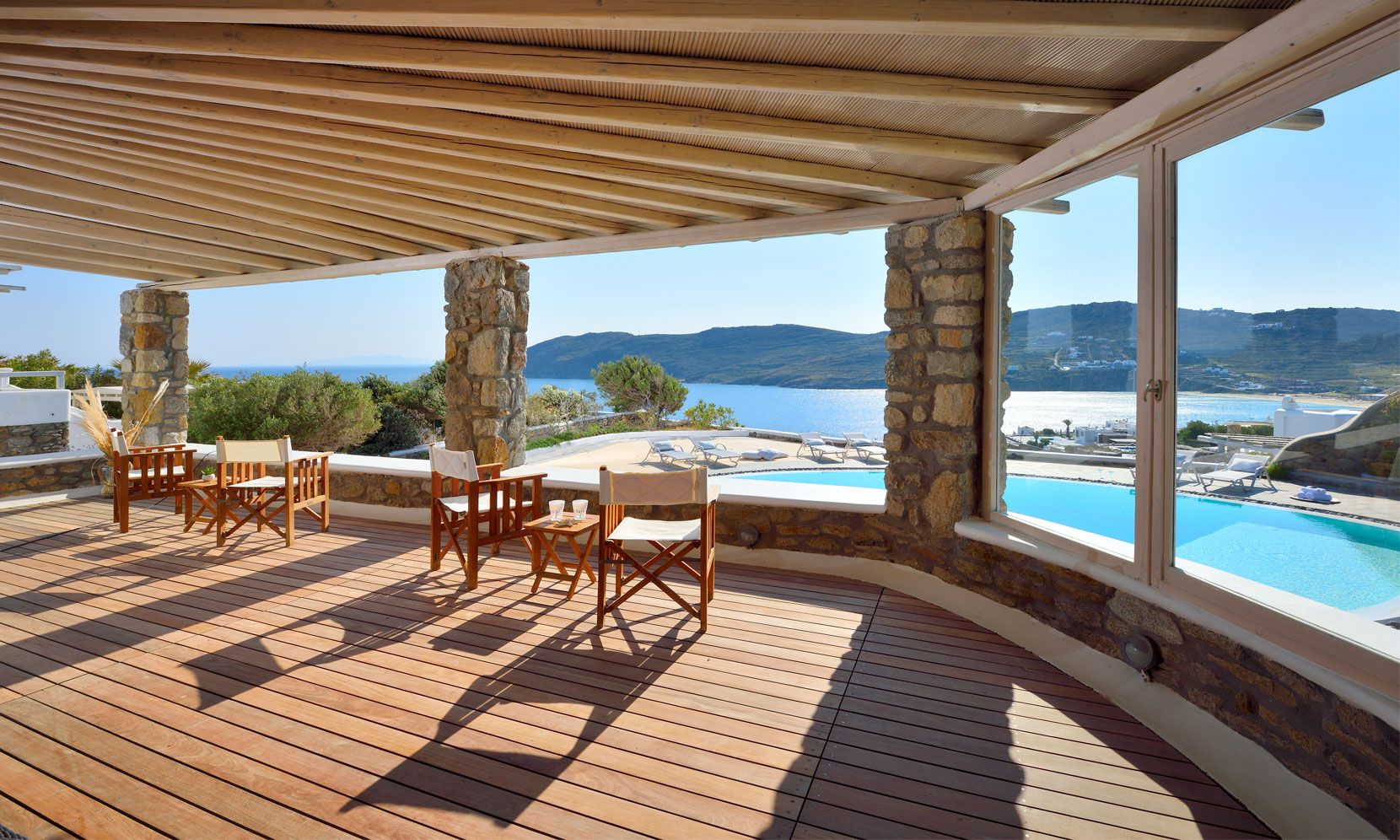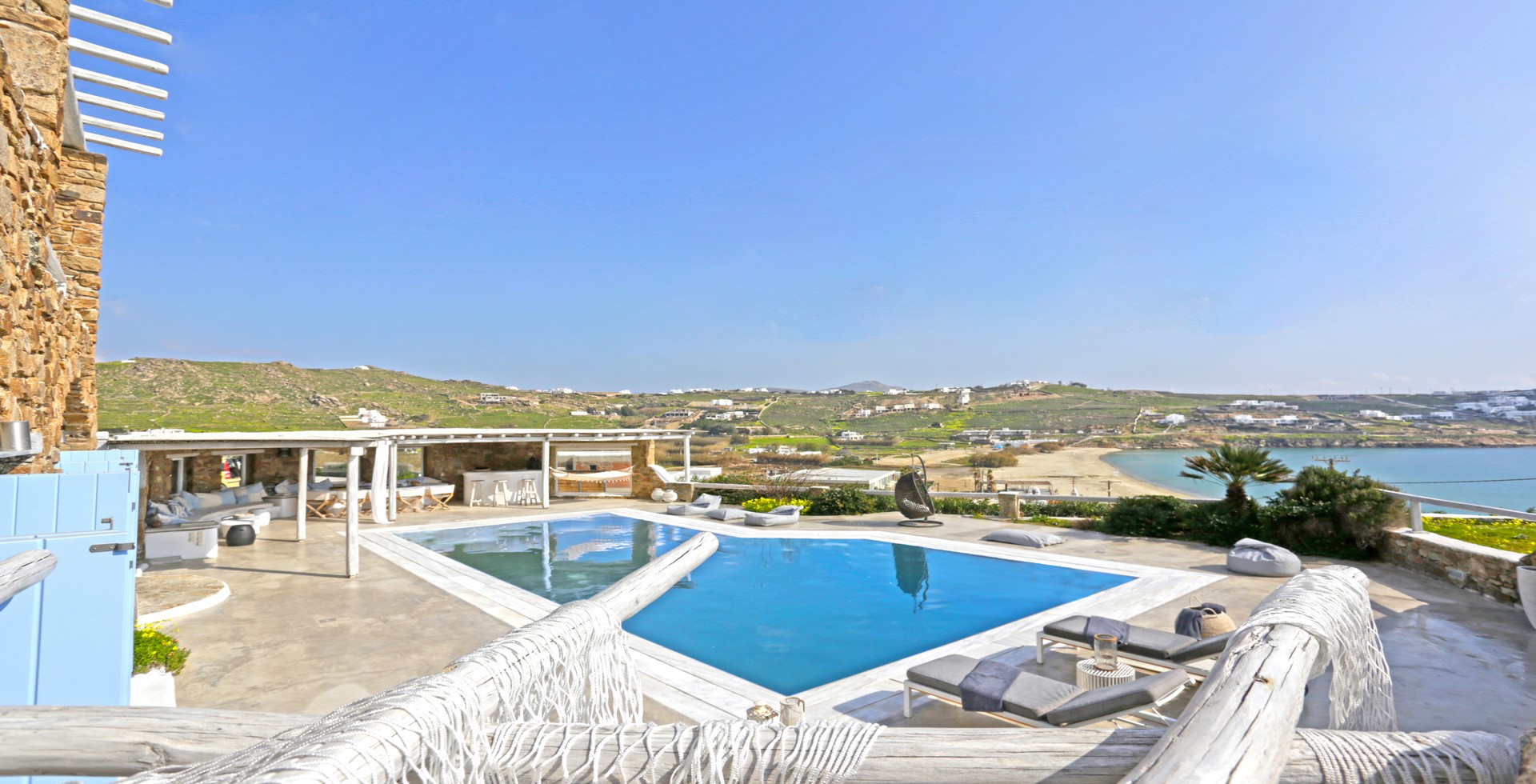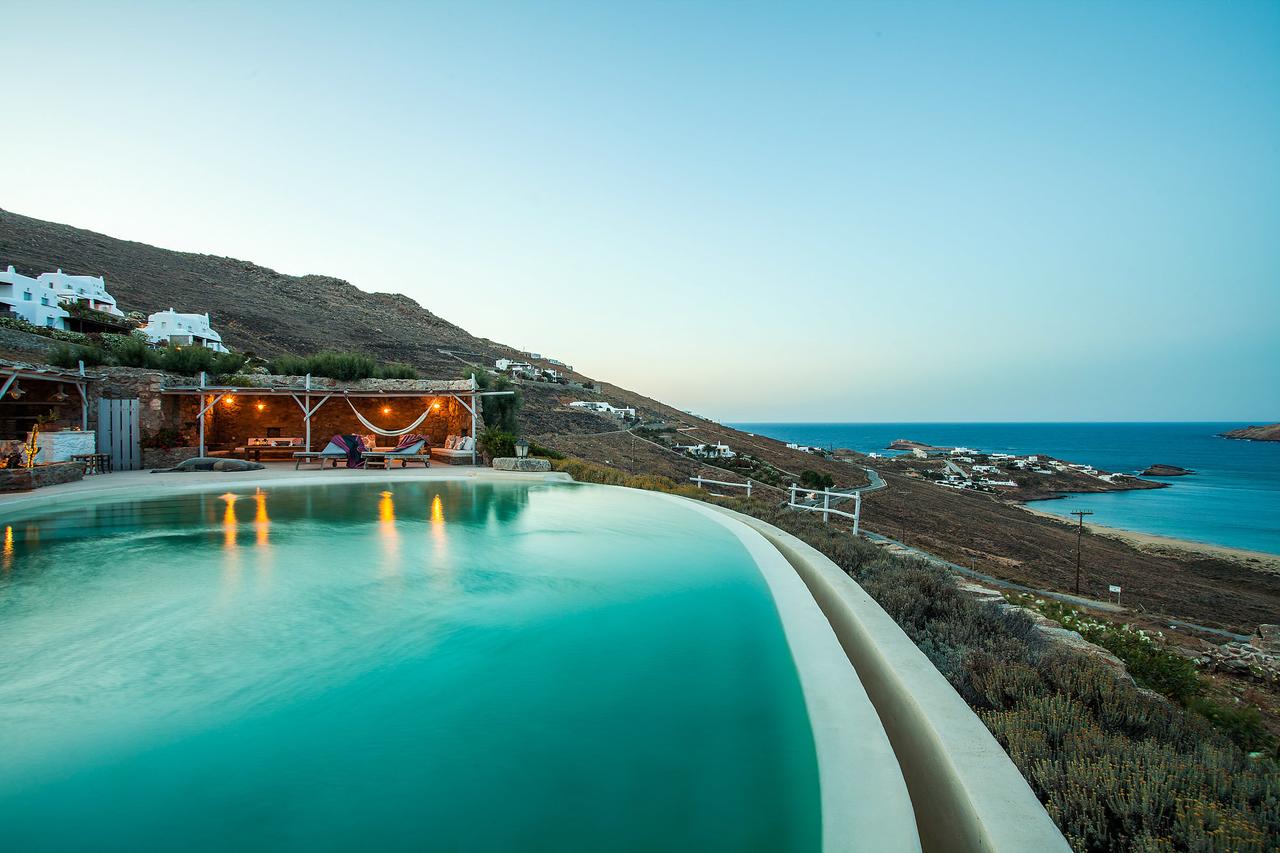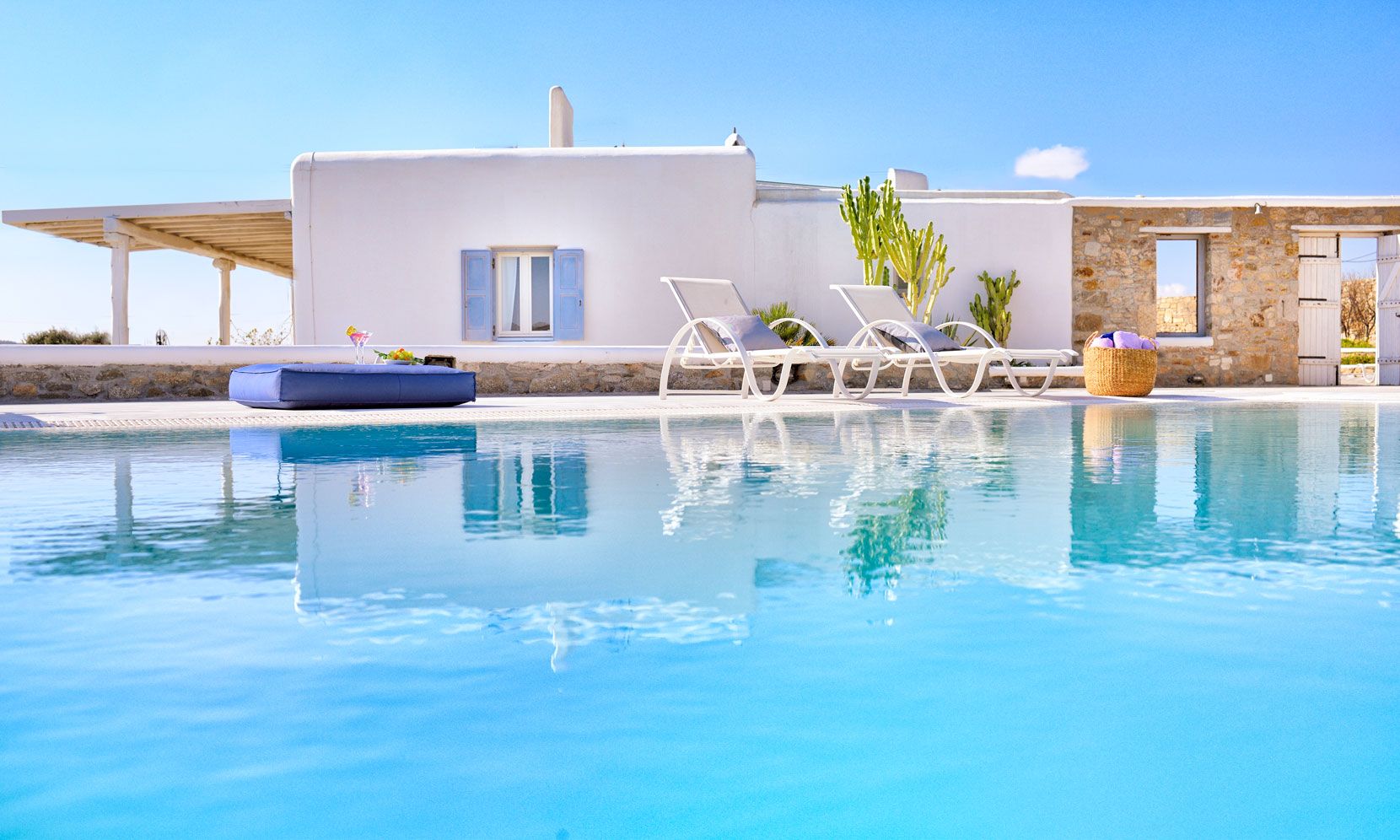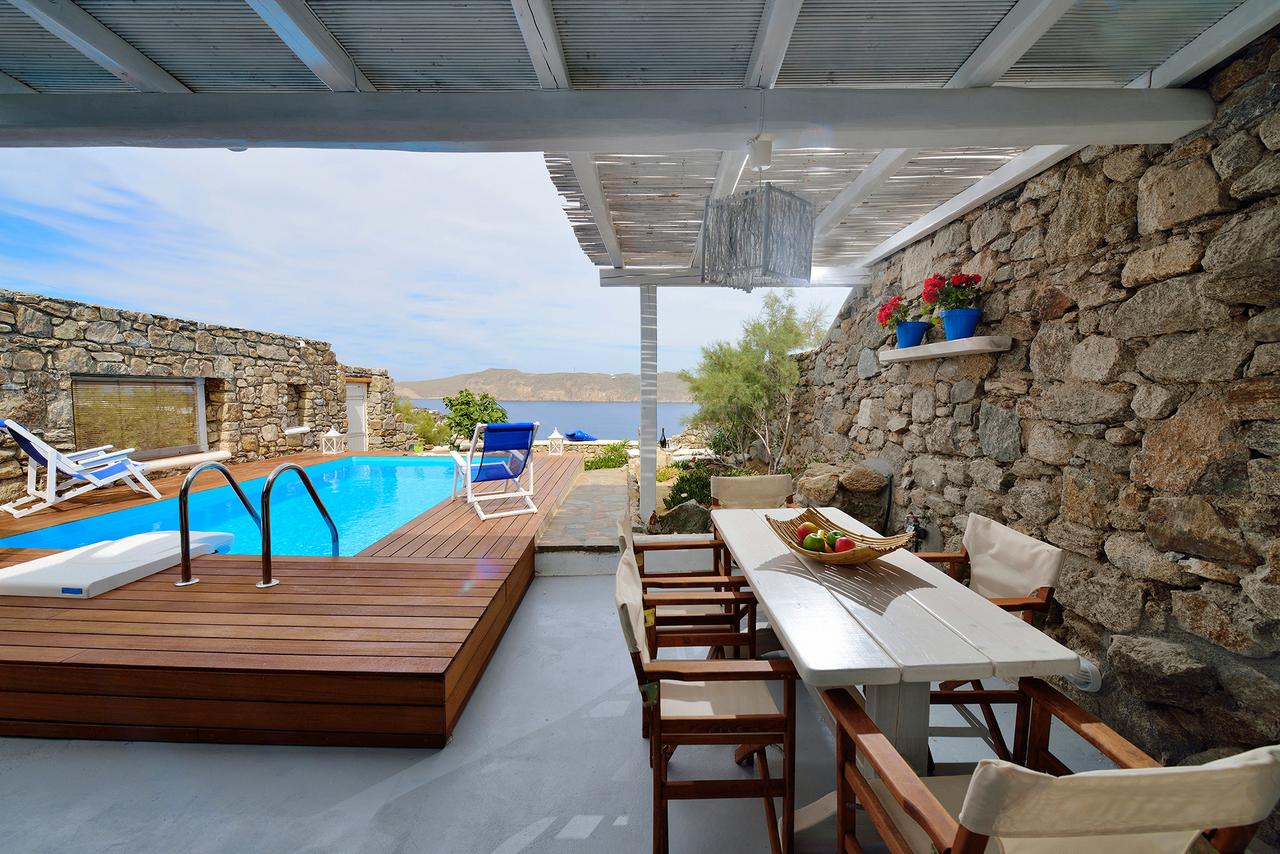 For great value villas close to the beach with modern facilities and private pools take a look at the Panormos Villas.
They offer a private pool or plunge pool, with sea views and all have been fully refurbished to offer an excellent standard of accommodation at an excellent rate. A beautiful house just 1km from the beautiful Kalafatis beach is Villa Fiore Di Luna which features 5 en suite bedrooms, luxurious accommodation and a private pool with stunning sea views.