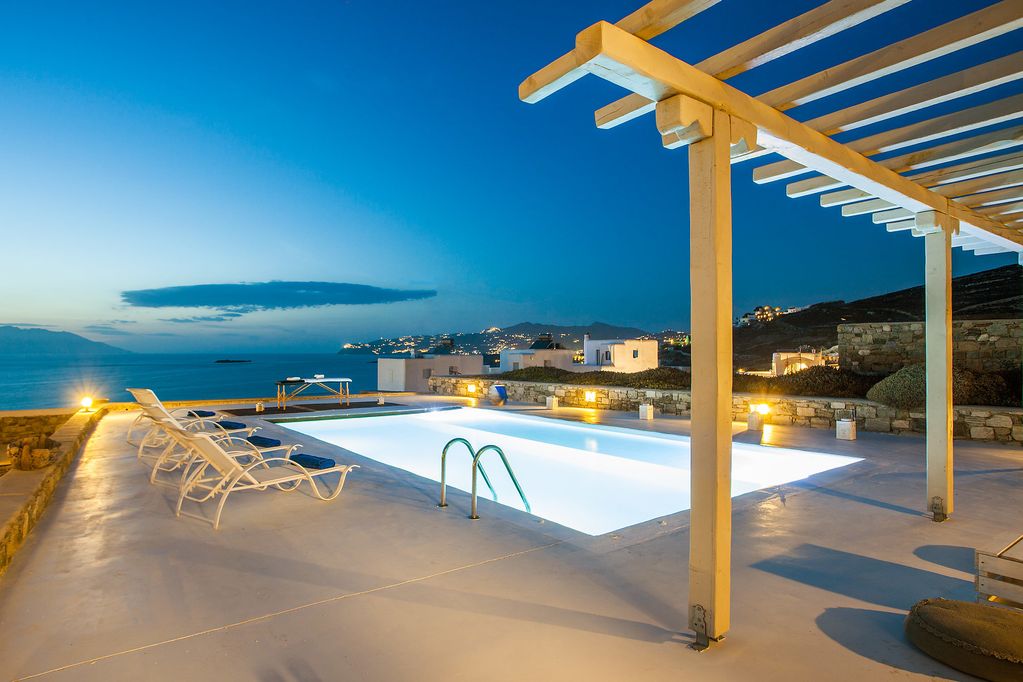 Cheap Villas Mykonos
Posted on
December 14, 2019
Cheap Mykonos Villas
The best value villas with private pools.
Take a look at our selection of cheap Mykonos Villas.
Mykonos has some excellent accommodations including luxury Boutique hotels and some very exclusive villas.
However, the island also offers some exceptionally good value villas with all the comforts of home and many with private swimming pools.
Some of the best deals can be found in the areas of Ornos, Ftelia, Fanari and in the area of Kalafatis which offers some of the island's best beaches.
A villa can still represent good value with rates from around €4000 per week in high season for 8 people, this works out at €500 per head which is a better deal than a mid-range Mykonos hotel.
Take a look at some of the following villas and you may be surprised to find that Mykonos is well within your budget.
Good value villas Ornos and Pouli area.
This is an ideal location for those wanting to be close to all the action and some of the island's most popular beaches.
Villa Nadia is a good value 3 bedroom villa with stylish accommodation and a private pool, rates start from €400 in low season.
If your a larger group then what about the 4 bedroomed sea view villa Giasemi which also features a small pool and is under 2km to the beach of Ornos.
Another excellent property is Villa Macy which offers a seafront location with  4 bedrooms and a private pool, there is also a small natural rocky beach is just below the villa.
Villa Maria is a seafront property with amazing views, a great place to enjoy the beautiful Mykonos sunsets.
The villa offers 4 bedrooms, private pool and low season rates start from €480 per night for 8 people.
Also close to the action of Mykonos and several good beaches is Villa Ella, with 4 bedrooms it can accommodate 8 guests and also features a private pool. Lovely seafront location.
Fanari and Kalafatis area
Fanari is located in the northwest of the island and offers wonderful sea views with the island of Tinos in the distance, its also a relaxing place to stay.
However, Mykonos Town is only around 8km distance so your not far away from the nightlife and many beaches are within 15 to 20 minutes' drive.
A good value villa with wonderful views and offering 3 bedrooms is Villa Kathy which sleeps up to 6 guests in comfort.
The villa is excellent value with rates from €400 per night in the low season.
Another location that's worth considering is the area of Kalafatis which is located on the southeast coast of Mykonos, an area with some of the most beautiful beaches.
Villa Gallini offers 3 bedrooms and can sleep up to 8 guests with rates starting at €325 in the low season and it also features a beautiful pool with open sea views.
For those in search of a beach house with the golden sands, just a few minutes walk away than take a look at Beach House Kalo Livadi which is situated just a few minutes walk along a sand path to the glorious beach of Kalo Livadi and offers bargain rates.
Mykonos along with Santorini has the most expensive accommodation rates in Greece but it is still possible to find cheap villas Mykonos if you know where to look.
Take a look here to check out a collection of excellent value villas that offer an excellent standard of accommodation and most with private swimming pools.
View a selection of cheap Mykonos villas.