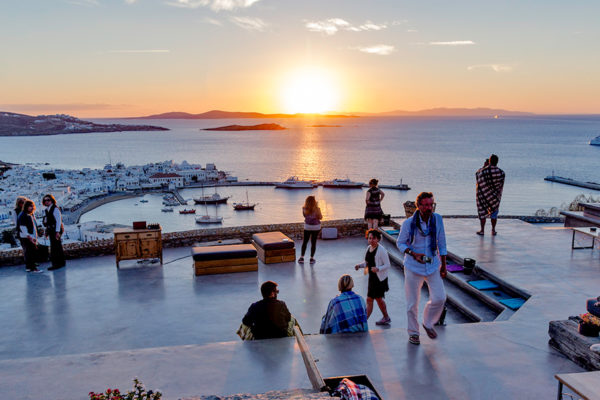 Things to do in Mykonos
Posted on
January 19, 2019
The best things to do in Mykonos
Some of the best things to do when your in Mykonos, a chance to enjoy and explore this beautiful island.
Things to do in Mykonos
Beaches
If you come to Mykonos then you must head straight down to the beach and Mykonos has some amazing beaches to choose from.
The famous beaches of Psarou, Plati Yialos, Paradise and Super Paradise are the closest to town and also the best known.
However, try venturing further afield and try some of the bays beyond Elia beach like Agia Anna, Kalo Livadi and the beautiful beach of Kalafatis.
Maybe start the day with an early morning swim at Lia, this is a lovely quiet beach and mid-morning is perfect before the beach lounge bar has really got started.
Ftelia is worth a look also, it tends to be windy so popular with wind and kite surfers, but tuck yourself in at the far end and its a great spot without the crowds.
More Information Mykonos Beaches
Delos
If you come to Mykonos you should spend a morning or afternoon visiting the famous archeological site of Delos, once the most important settlement in the Mediterranean.
Delos is one of the most important sites to visit in the whole of Greece and is a UNESCO World Heritage Site, this was the center of the Mediterranean thousands of years ago so its a place that needs a bit of exploration.
Mykonos Vioma Organic Farm and Winery
The island of Mykonos is famous for nightlife, beaches and hedonistic times. But there are still some traditional sides to the island that can be enjoyed and give the island's visitors something special to remember, Vioma Organic Farm is one such place.
Come and enjoy the natural surroundings, taste some of the farm's organic produce including some delicious cheese and tasty deli meats. The farm has its own vineyards and produces some high-quality wine to be enjoyed with the local produce. A great place to visit individually or with a group of friends.
Best to book in advance to confirm your visit.
Vioma Organic Farm information.
Enjoy a special beach lunch in Mykonos
For a special beach lunch, you must head over to KiKi's taverna at Agios Sostis, this is the real deal, not another fancy beach club. Come and enjoy freshly grilled fish or the best cuts of meat grilled perfectly on a real charcoal BBQ. KiKi is one of the last true beach tavernas in Mykonos, best get there before its all over and it's just another hip beach lounge bar.
No Bookings at this place, just go and enjoy.
Open day time only, no electricity!
Flora Supermarket with DJ sounds
OK, this is not an obvious destination to put on your list of things to do in Mykonos, but just for the hell of it go and do a bit of stocking up on local supplies. Firstly it's a great supermarket, but the best thing about this place has to be the sounds, only in Mykonos can you food shop and bop.
Mykonos 180 Sunset bar
This is the place to enjoy beautiful Mykonos sunsets with a great location looking down to the waterfront of Mykonos and the main town.
Enjoy delicious cocktails in a relaxed chilled out atmosphere, great sounds, and perfect views.
This place gets busy in high summer so if your a group then maybe booking is advisable.
Walking or Cycling in Mykonos
If you like to walk or cycle then the best time to visit Mykonos is either Springtime or Autumn as the sun is not as strong as the high summer months.
A good option for walking is the 4 mile hike from Mykonos Town to the Arthenistis Lighthouse which is located at the northwest tip of the island.
Or maybe join an organised walking tour that will include a traditional lunch at Mykonian Spiti farm which also offers cooking classes.
Other options include a hike to Mersini beach which is off the beaten track and for the more adventurous climb to the highest points of the island to enjoy fabulous views to some of the neighboring islands.
Mykonos is not known for its walks like it's sister islands of Tinos or Naxos, but if you're staying for a few days then why not get away from the main crowds and enjoy a different side of Mykonos.
Cycling is also possible but the roads are fairly crazy around the main town of Mykonos, but once your away from this area it's easy going especially if it's offseason.
Spring is a beautiful time to visit any of the Cycladic islands with its clean air and wildflowers in abundance.