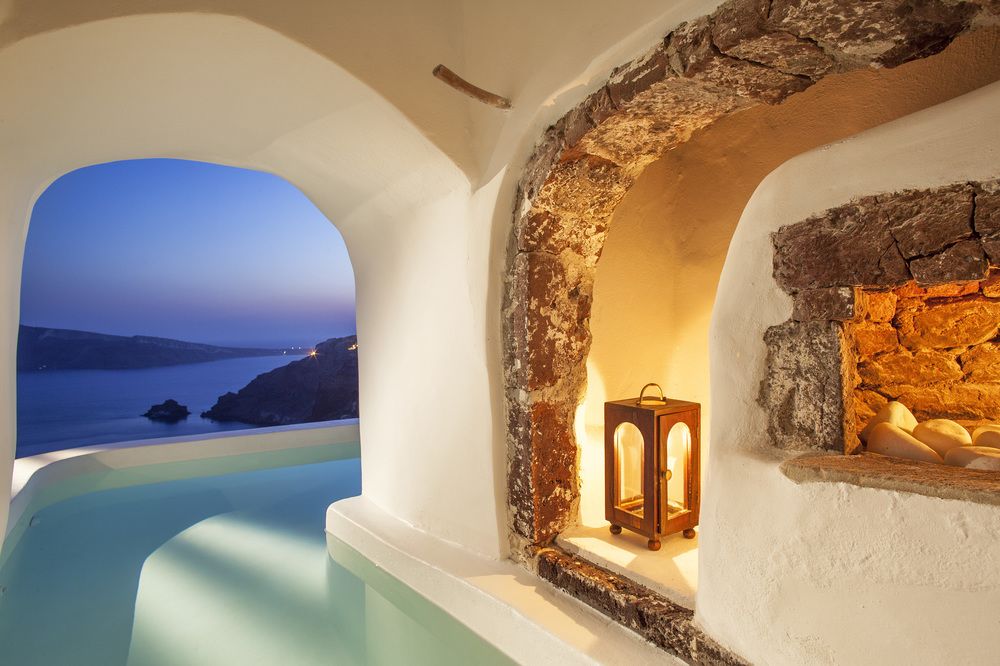 Santorini Villa Holidays 2019
Posted on
December 19, 2018
Santorini Villa Holidays
If your thinking to visit the island of Santorini then a villa may be the perfect option, for a family its ideal to be in one accommodation but also makes sense for a group of friends traveling together.
Where is the best place to stay?
Best for the Family
If you are a family then maybe one of the beach resorts would be a good option, maybe the area of Kamari, Perissa or the quieter resort of Perivolos. Here you will find good beach facilities with many cafes, bars, and beachside tavernas. The area of Perissa and Perivolos also have a number of good beach lounge bars plus some very good water sports facilities.
These resorts offer excellent transport facilities is regular local buses operating to the main town of Fira, from here you can then get to all locations on the island of Santorini. The resorts also offer very good tourist facilities with many local shops, mini markets for your daily needs, various tavernas and good quality restaurants.
As for accommodation, there is now a good choice of Private villas and some excellent small complexes with a choice of villa sizes with 1 to 4 bedroomed villas available.
Kamari is maybe the best location for families as it now offers some very good quality villas many with private pools. Secret Earth villas are a collection of private villas each with its own small private pool, with a choice of 1,2 or 3 bedroomed villas, very modern with excellent facilities.
A number of other good options are available depending on budget, some lovely new luxury villas have been built on the hills behind Kamari, here you have great views and privacy but a car hire would be needed.
Villa Kameni which is located on the outside of Pyrgos village is a beautiful new 2 bedroomed luxury property, amazing views, private pool and excellent facilities for a small family holiday.
Santorini is a lovely place to enjoy a family holiday, here you can combine some lazy days relaxing in the Meditteranean sunshine with a few days exploring this quite unique holiday island.
Romantic holidays Santorini
Santorini is now one of the top destinations for romantic getaways with a huge choice of beautiful villas and suite hotels in amazing locations. The atmospheric village of Oia is probably the number one choice with its picture postcard appeal, the village clings to the edge of the Caldera and from each balcony, you enjoy the famous Santorini sunsets.
Other options could be Fira, Firostefani or Imerovigli, all offer amazing Caldera view Villas and excellent local facilities including some good nightlife.
The area of Akrotiri is now on the up, here you can find some excellent new luxury accommodations and the views may be the best in all Santorini.
The choice of villas grows each summer, new properties with extra facilities, it simply comes down to your budget and expectations.
The choice is to stay in a small luxury boutique hotel with a private suite or maybe one of the many small luxury Santorini Villas with lots of peace and privacy.
Santorini for friends
Most people come to Santorini for the scenery and to visit the many beautiful villages including Oia, Pyrgos, Megalochori and of course the capital of Fira which is really a large village.
The island has a little more to offer and can be a great place to stay for a group of friends or couples looking for lively nightlife and some lazy beach days.
The ideal place to stay is one of the beach resorts or maybe the main town area of Fira which includes also the connecting villages of Firostefani and Imerovigli. The best nightlife on the island is in the main town, here you can find many excellent accommodations including many excellent first class villas for couples and large groups. Fira gets very busy over the peak months of July and August, maybe Imerovigli or Firostafani is a better option with the center of Fira just a 15-minute walk.
If you want a town location with great views maybe take a look at Porto Fira Villas which offer private plunge pools and lovely views of the famous caldera. For larger groups, Erossea villa is a beautiful 5 bedroom villa with private heated pool. Caldera views and a quieter location in the area of Imerovigli, but just 15 a minute walk from the lively center of Fira.