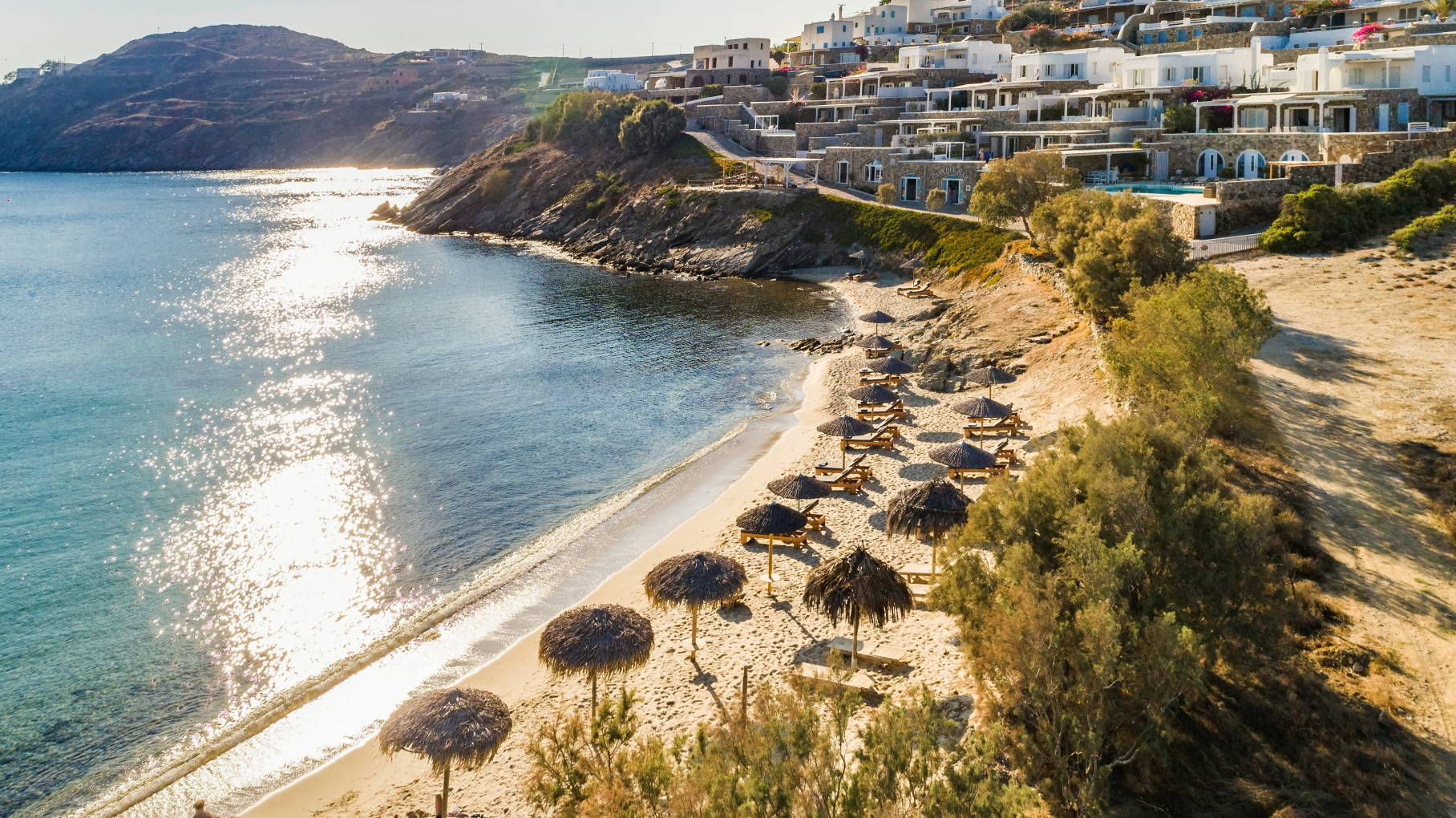 Mykonos Family Villas
Posted on
August 15, 2019
Mykonos Family Villas
The best villas and places to stay in Mykonos if travelling with the family.
Mykonos Family Villas
The island of Mykonos is not just for the rich and famous or people wanting to party 24/7.
Mykonos is a great destination for a family beach holiday and staying in a holiday rental can be the perfect option.
The island has a huge choice of beautiful villas many with private pools and some located close to some of the islands amazing beaches.
When considering a family villa holiday in Mykonos its best to list what your main priorities are, so if you like to eat out most evenings then maybe a villa near the town would be a good choice.
That gives you the option of heading out to a different beach each day or chilling out by the pool.
However, if the beach is top of your list then maybe a beach villa would be the best way forward and then eating at the holiday home or in one of the local beach restaurants with an occasional excursion into Mykonos town.
So what are the best beach areas for family villa holidays, the area of Kalafatis is a great area with several tavernas, local mini markets, and the beautiful beach?
Various water sports are also available.
In the same area, we have several smaller beaches like Kalo Livadi, Agia Anna and the delightful cove of Lia which is located just to the east of Kalafatis.
In this area, many new villas have sprung up with first-class facilities and beautiful sea views.
The villas located in this area of the island also offer lower rates than the villas close to the famous beaches of Psarou, Super Paradise, and Paraga.
For those that like to have a relaxing time with everything close by another area to consider is that of Ftelia bay which offers a beautiful beach and also close to the attractive village of Ano Mera which has some excellent traditional-style Greek tavernas.
Mykonos Villas for families
Villa Elise 
Villa Elise features a beautiful free-formed pool with lovely views across the bay, offers 5 bedrooms and spacious living spaces and just a few minutes walk down to seashore with safe bathing.
More info Villa Elise 
Casa Di Luna Kalafatis
Luxury 7 bedroomed villa located close to various beautiful beaches including Kalafatis, Kalo Livadi, and Agia Anna.
This stylish villa features a large private pool and excellent facilities, would be ideal for 2 or 3 families holidaying together.
More info Casa Di Luna Kalafatis
Villa Veggera
For the family that wants to be close to all the action, this modern villa offers its guests a luxury stay just moments away from the beautiful Super Paradise beach.
The villa sleeps 6 people in total comfort with 3 bedrooms, 3 bathrooms and a lovely sea view terrace with a private pool.
More info Villa Veggera
Beach House Kalo Livadi
Ideal villa for those looking for a good value traditional style beach villa, located just 350m from the beach via a sand path.
This 4 bedroomed villa is a great choice for 2 families in search of lazy days on the beach and relaxing evenings enjoying the Mediterranean life.
No Pool but just minutes to the sea. More info Beach house Kalo Livadi.
More info Beach house 
Villa Juliet Ftelia Bay
Luxury and seclusion, this is a beautiful villa offering privacy with first-class facilities.
This would be a great option for families with older children due to the layout of the property.
Can sleep up to 12 people in 6 bedrooms, lovely views and close to the village of Ano Mera for supplies or evening in traditional style tavernas.
More info Villa Juliet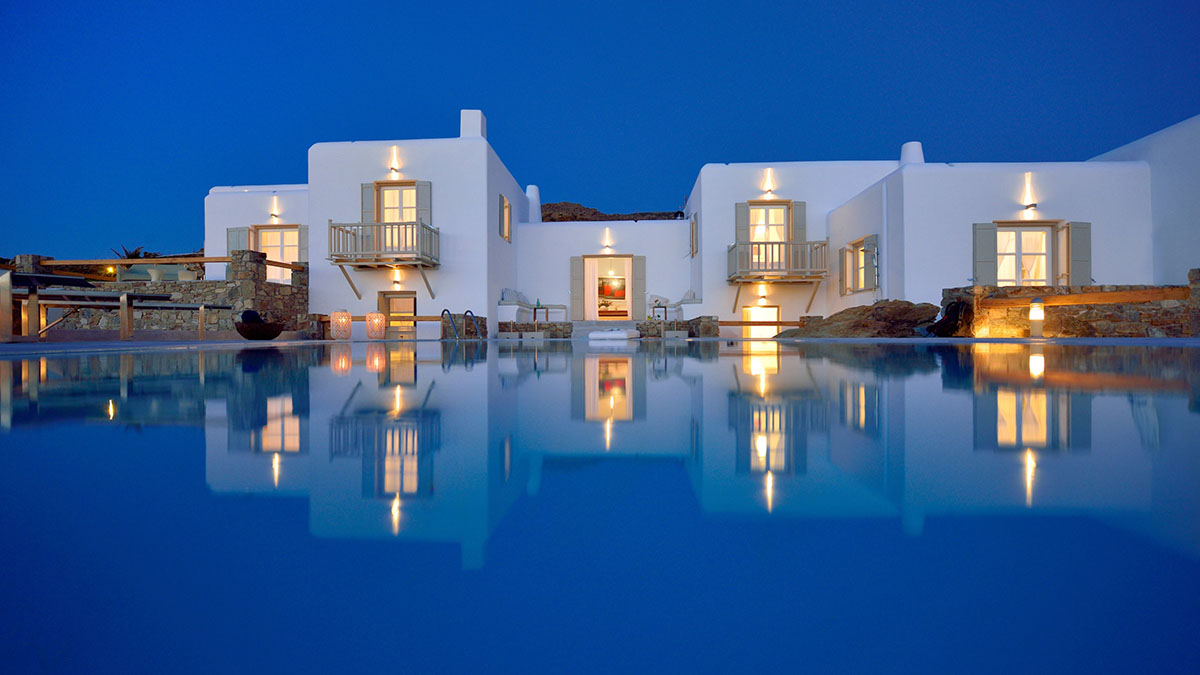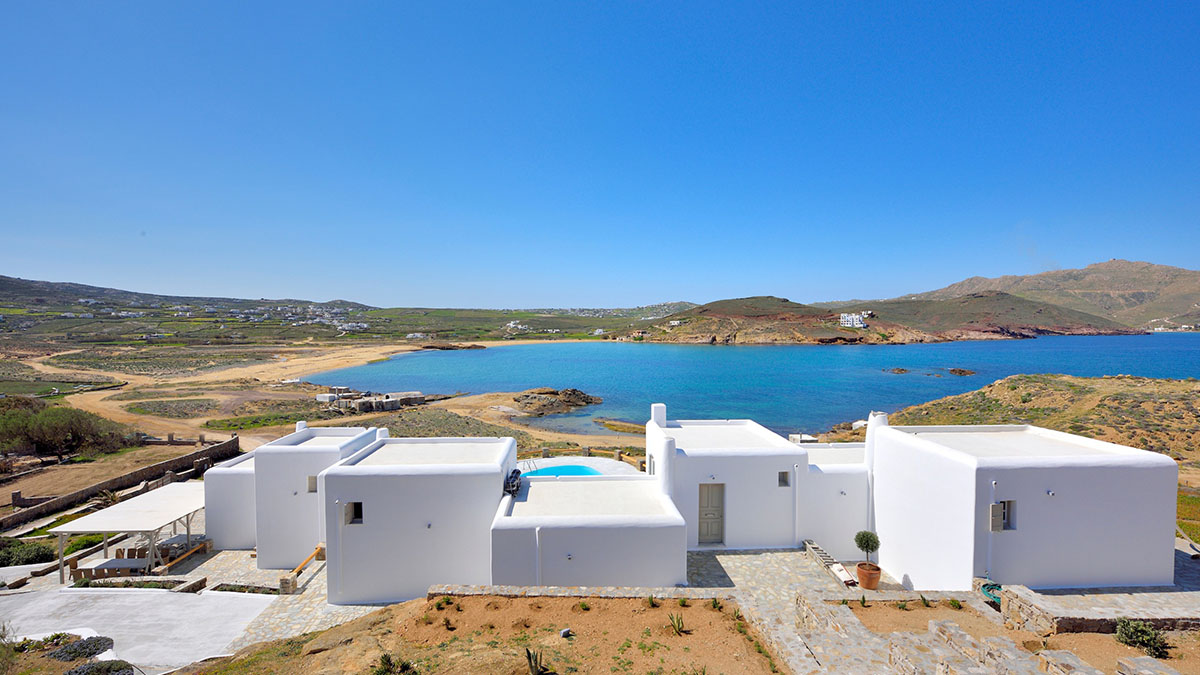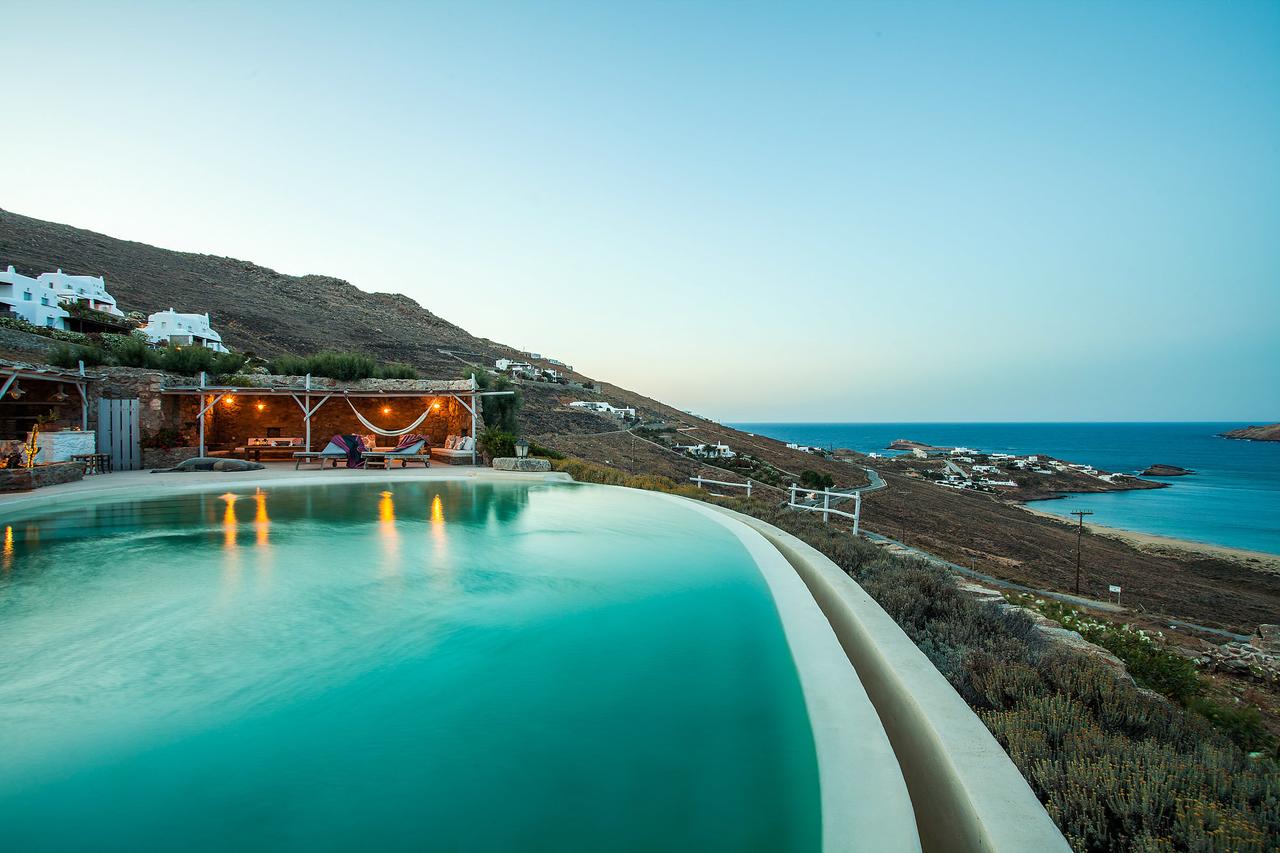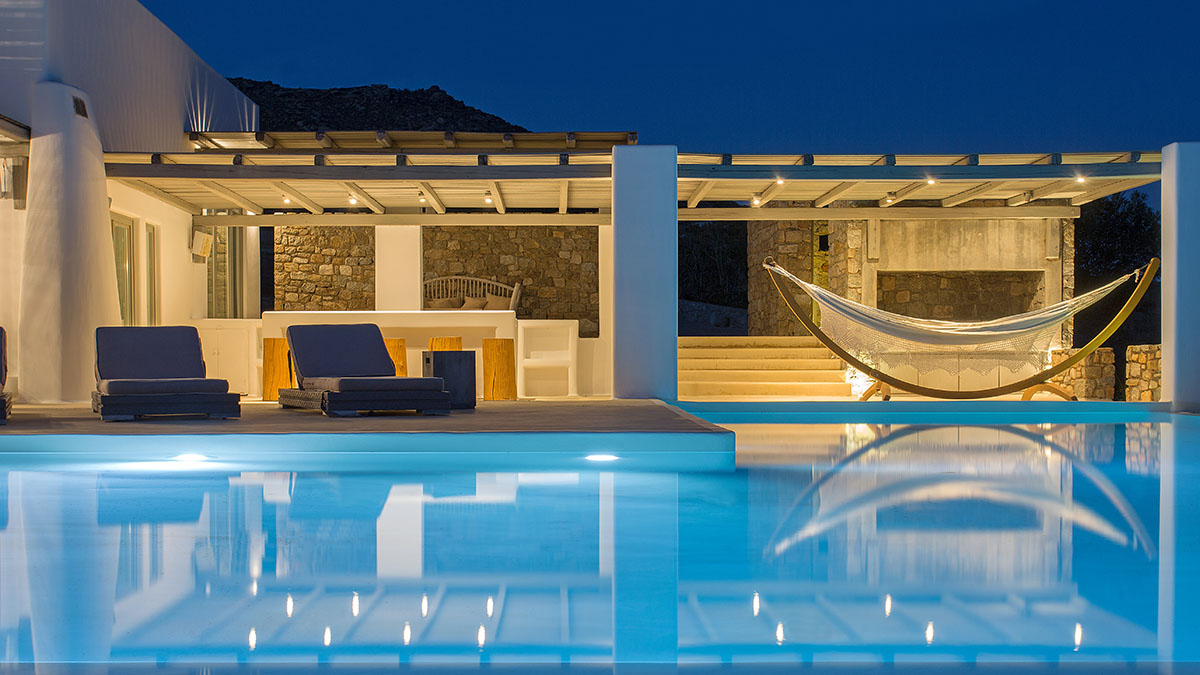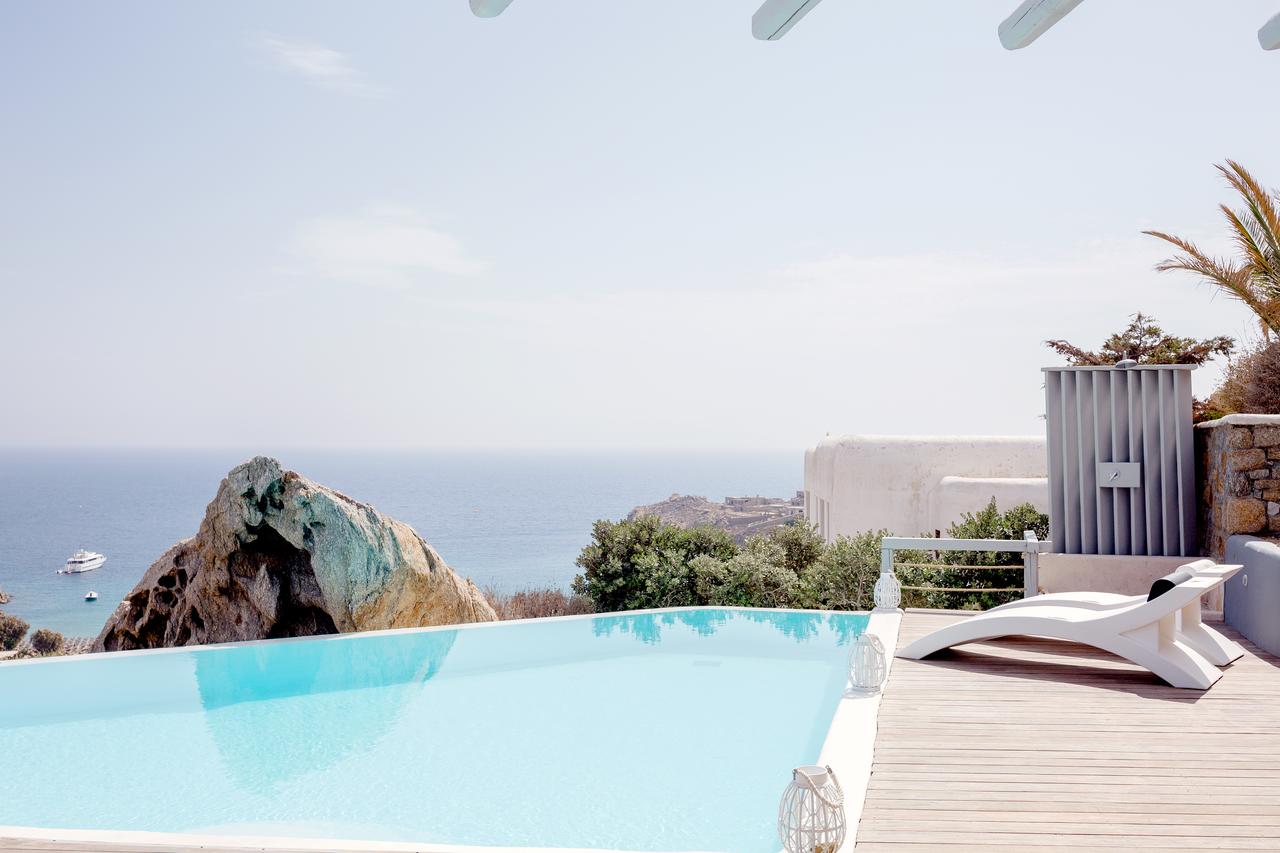 Villa Adriana Ftelia Bay
Luxury villa with ultra-modern design and furnishings, offering 4 bedrooms and 3 bathrooms. lovely pool with wonderful beach views.
More info Villa Adriana Ftelia bay.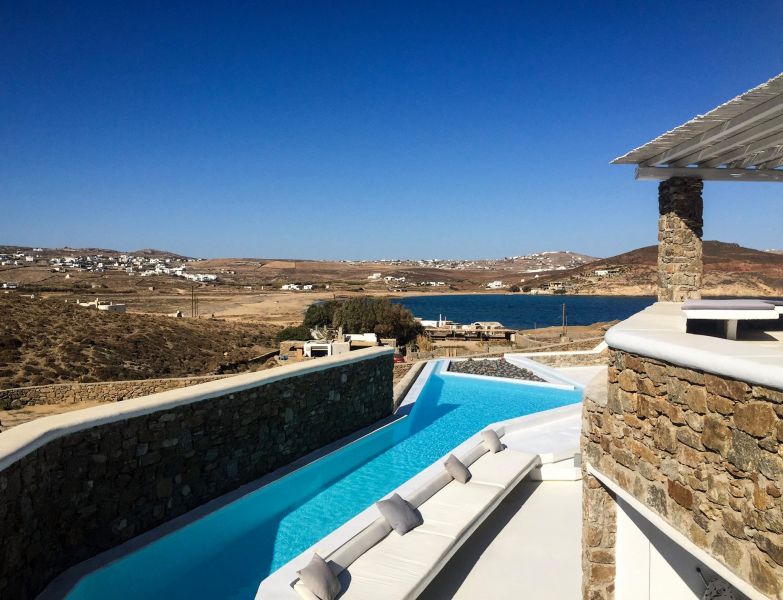 Villa Daphne Agios Lazaros
Beautiful house with 3 bedrooms and a private pool located in a private estate.
Newly refurbished to an excellent standard, near to various beaches and the town of Mykonos.
More info Villa Daphne Agios Lazaros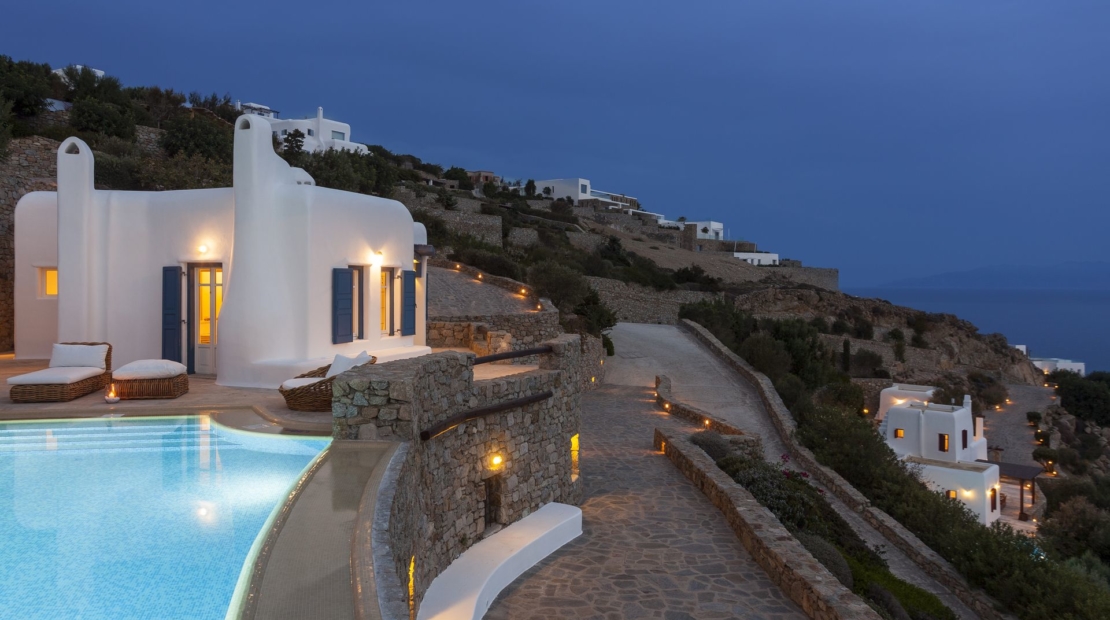 Katikies Villas Elia Beach
New collection of luxury villas with 1,2 or 3 bedrooms.
Part of the Katikies Group of boutique hotels and luxury accommodations.
Private pools and excellent facilities.
More info Katikies Luxury Villas Elia Beach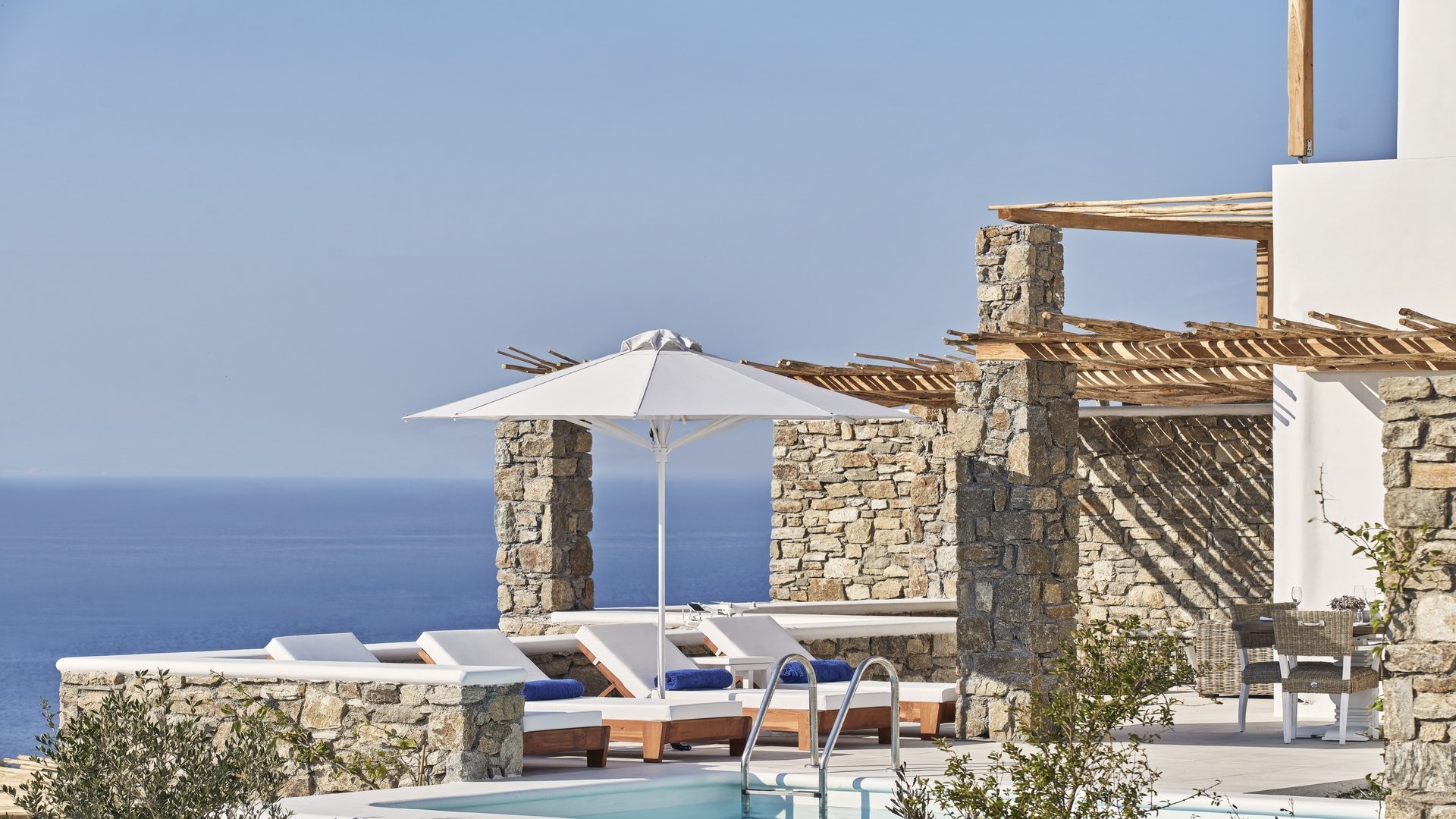 Mansion House Mykonos Town
Beautifully reformed Mansion House located in Mykonos Town, elegant accommodation and private pool with sea view terrace.
This is a great villa for families with older children, visit a different beach everyday or chill by the pool.
More info Mansion House Mykonos Town
Casa Del Mar Mykonos
A collection of 11 villas and suites that can accommodate small and large families, great location being next to a small cove beach and also close to town.
Private villas with luxury hotel facilities.
More info Casa Del Mar Mykonos
Almyra Guest Houses 
Ideal for a couple travelling with 1 or 2 children, this stylish complex of studios and small apartments offers good value accommodation close to the beaches of Platis Gialos and Paraga.
More info Amyra Guest Houses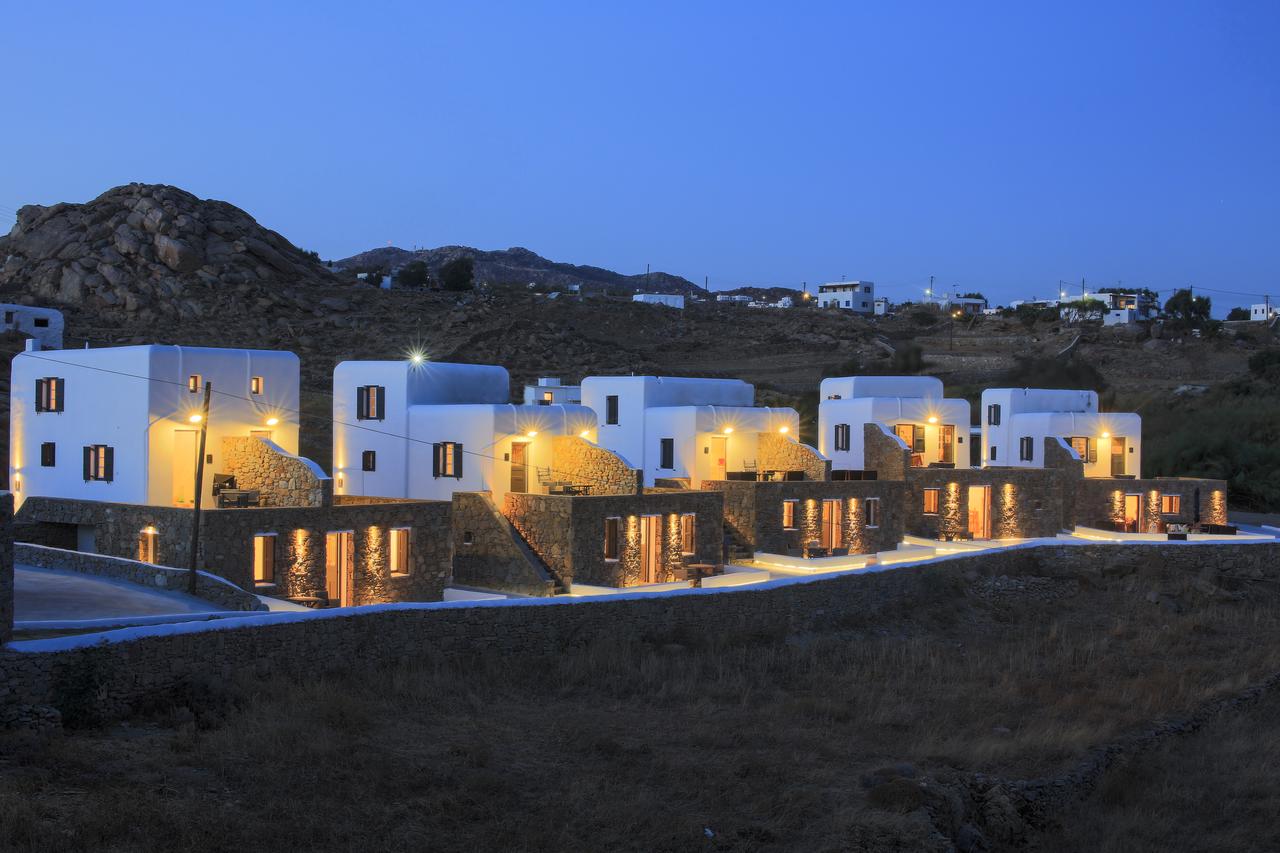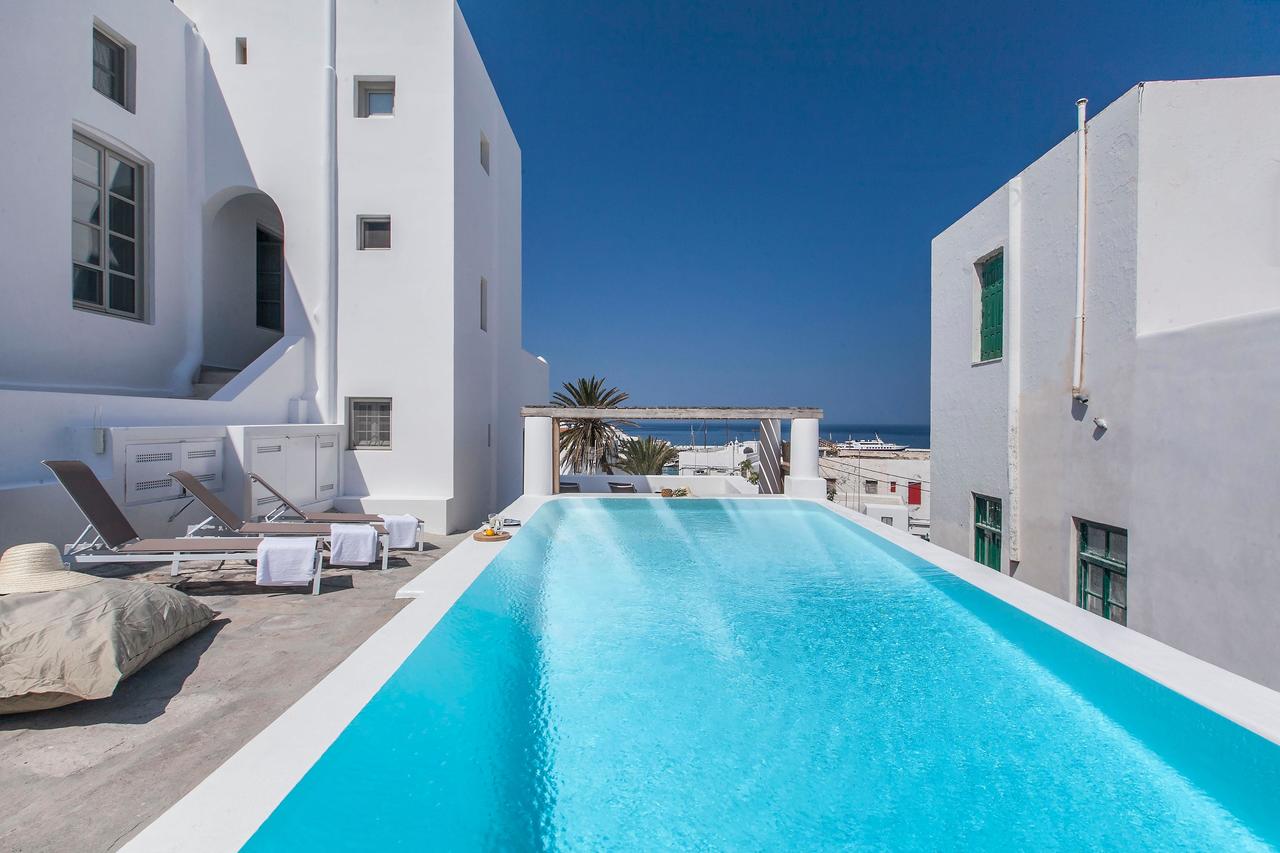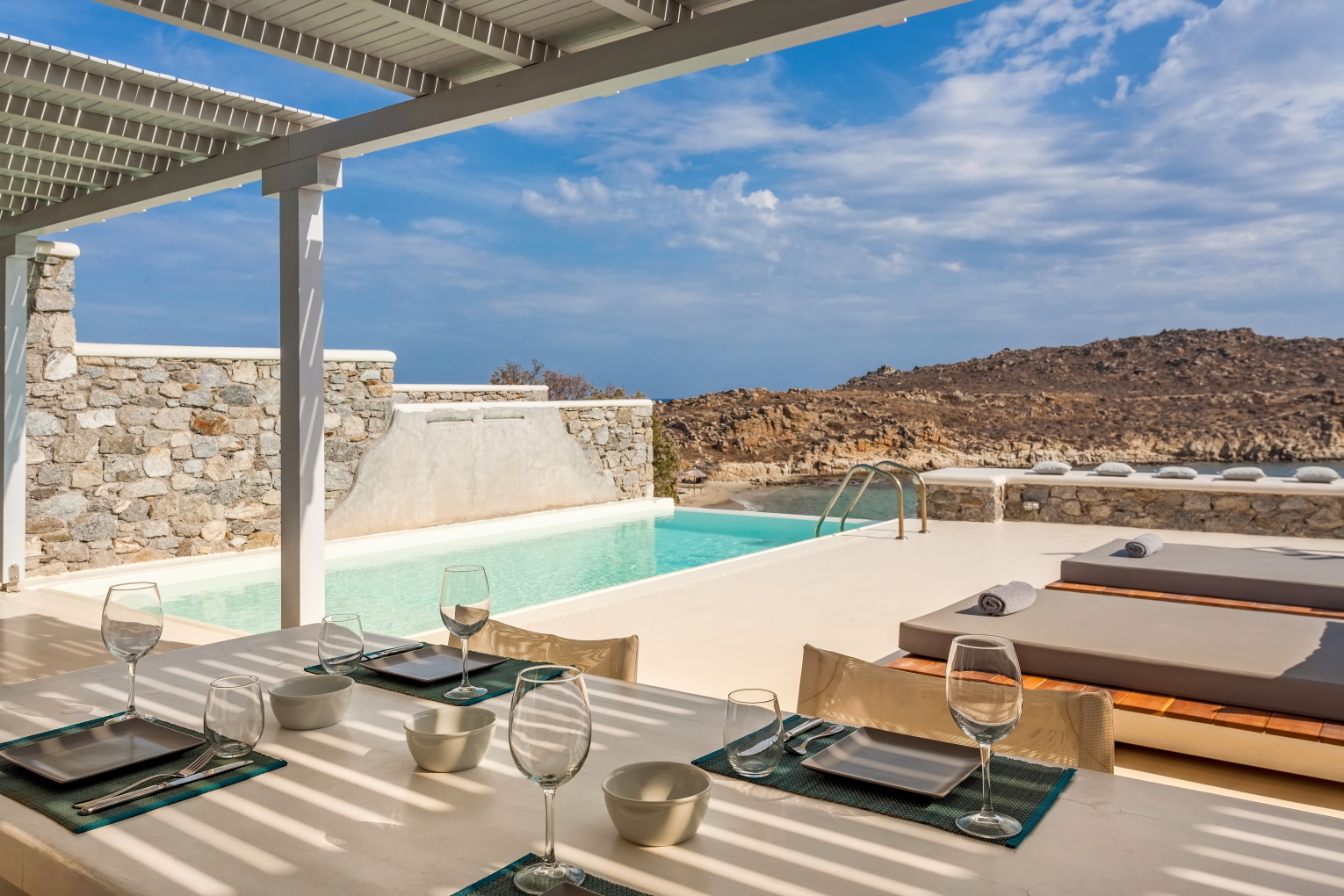 Small and cozy Mykonos villas
Villa Yellow Kalafatis beach
Lovely villa which has been recently renovated to offer excellent accommodation of 1 double bedroom plus a double bed in a loft area.
Private pool and amazing views.
More info Villa Yellow Kalafatis