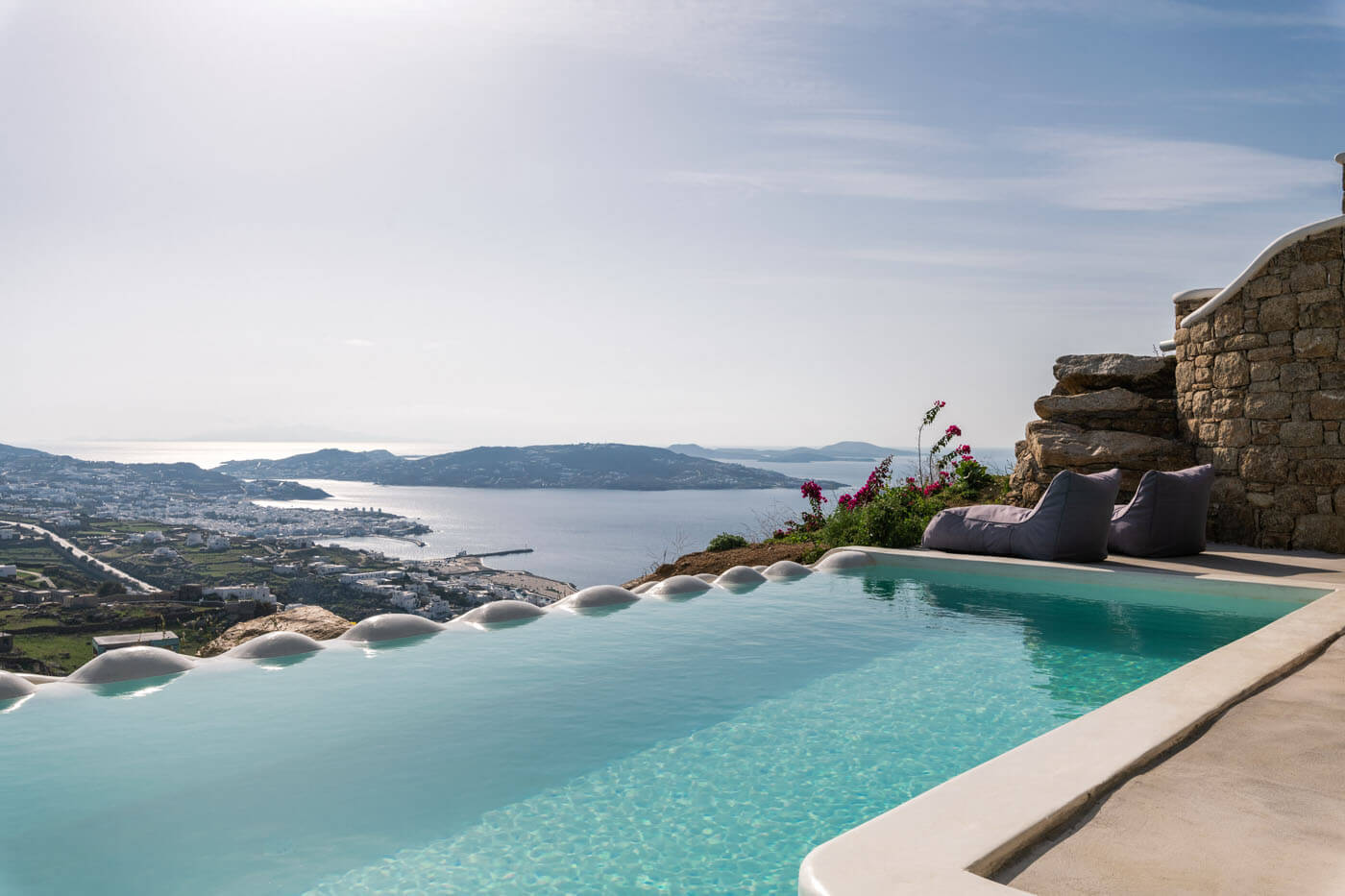 Greek Island Villas
Greek Island Villas For Rent
Villa holidays are more popular than ever before due to the recent situation and the Greek islands are the perfect choice for wonderful vacations with friends, family, or romantic couples looking for their own piece of paradise.
The number one question is which island or islands are best suited for your vacation?
Greece offers something for everybody and it really depends on your holiday wish list.
Great food, amazing archeological sites, cosmopolitan nightlife, and wonderful beaches with translucent water for swimming.
Take a look at our selection of suggested islands and if you need any help deciding please contact us for further information.
Mykonos
The island of Mykonos has been a magnet for the hedonistic set since the early 60s, it's now a popular luxury destination offering many beautiful villas of all sizes.
The villa rental rates are some of the highest in the Mediterranean, for sure the island attracts the rich and famous every summer.
However, it's still possible to find some excellent value villas often in quieter locations, and out of the high season of July/August rates are considerably lower.
Mykonos is a beautiful island to visit with fantastic beaches, a picture-postcard town (Chora), and one of the most important archeological sites in Greece the island of Delos.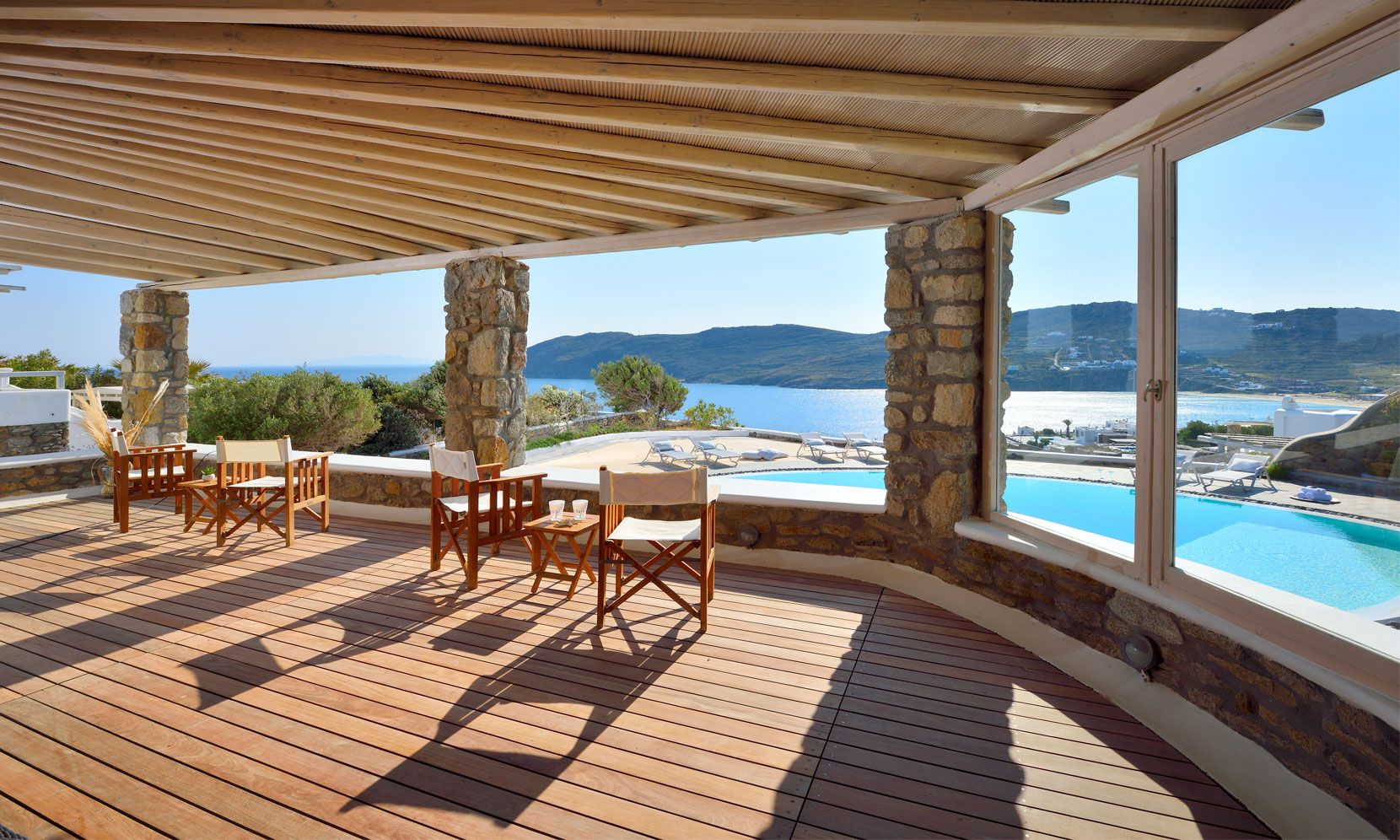 Villa Jacquemus Mykonos
Kalo Livadi Beach
5 bedrooms | 4 Bathrooms
Private Pool + Sea Views
Perfect for families or groups of friends who want to be near the beautiful beaches of Mykonos.
The villa offers spacious accommodation, a large terrace with a private pool, and is just a short distance to many of the island's beautiful beaches including Kalo Livadi, Kalafatis, Agia Ana, Lia, and Elia.
View Villa Jacquemus Mykonos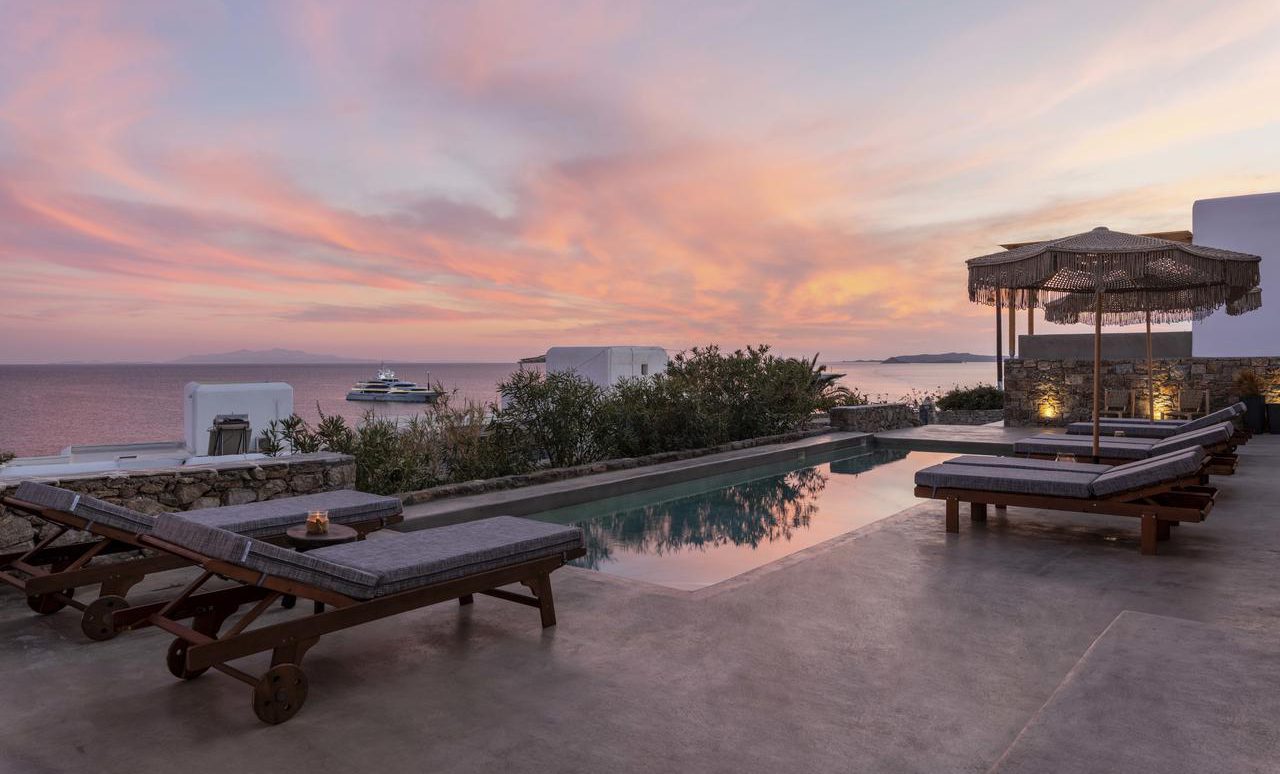 Infinity Villa Mykonos
Platis Gialos | Paraga
Prime location
Total of 7 Suites
6 suites feature a private cool jacuzzi
Private Pool | Sea Views
Located within walking distance to the beaches of Platis Gialos, Psarou, Paraga, and the famous Scorpios beach lounge.
View Villa Infinity Mykonos
Santorini
Santorini is one of the top destinations in the world due to its unique style with a stunning caldera that offers stunning views and memorable sunsets.
For many, this is the perfect romantic getaway with numerous cosy villas and suites clung to the Caldera edge with breathtaking views.
The villa rates on the caldera come at a premium and are generally double the rates for a similar accommodation facing the sea on the east side of the island.
Santorini features black sand beaches, quaint villages, and some excellent local food plus wines.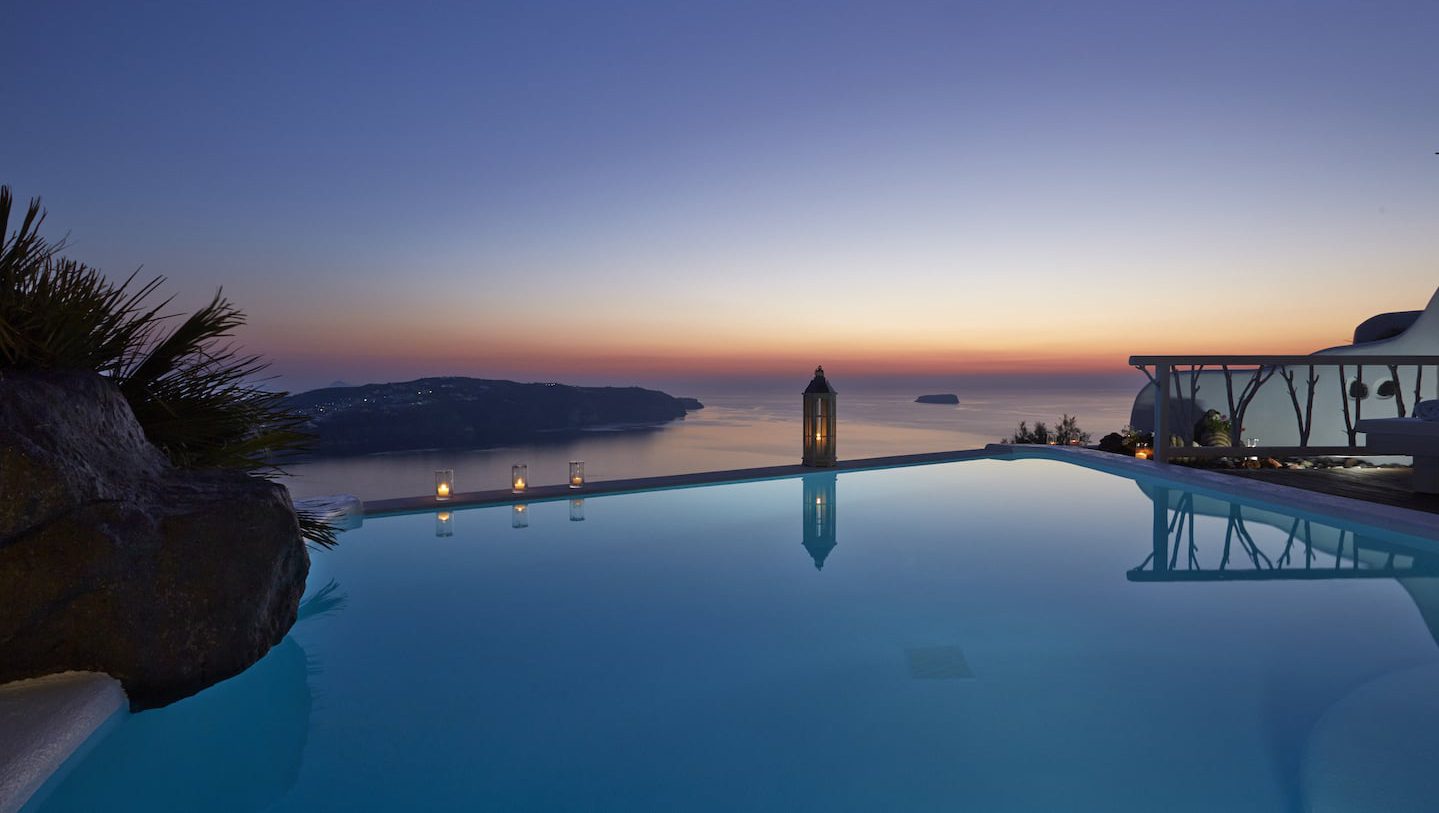 Megalochori Caldera Suites
Stunning Caldera Views
Luxury Suites
Private Pool or Hot Tub's
Unobstructed views of the famous Santorini Caldera and not paying the rates of Oia, Fira, and Imerovigli.
With stunning views, beautifully furnished accommodation, a private pool or hot tub, and the services of a boutique hotel at your disposal.
Short walk to the shops, cafes, and tavernas in the traditional village of Megalochori.
View Megalochori Caldera Suites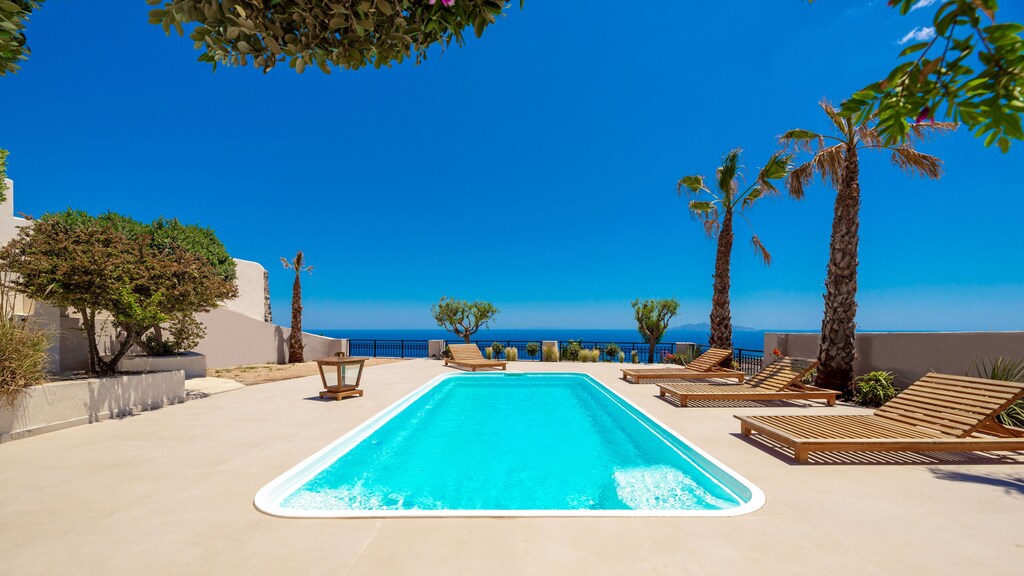 Imerovigli Hillside Villa
Sea Views | Private Pool
Near to tavernas and local amenities
3 Bedrooms | Bathrooms 3
Well furnished spacious villa located close to all the amenities of the popular village of Imerovigli.
The villa features a good-sized private pool, a large terrace with sea views, spacious accommodation with an open plan living area, and a fully equipped kitchen.
Ideal for a family holiday or couples holidaying together.
View Imerovigli Hillside Villa
Naxos
The island of Naxos has some of the best beaches, not only in Greece but the whole of the Mediterranean.
The main town (Chora) is a typical Cycladic village with a maze of windy backstreets plus the stunning Venician Kastro which sits high overlooking the whole area.
Naxos is a great destination for all age groups as it offers fabulous beaches, excellent tavernas with fresh local products, mountain scenery if you wish to explore, and some good laid-back nightlife.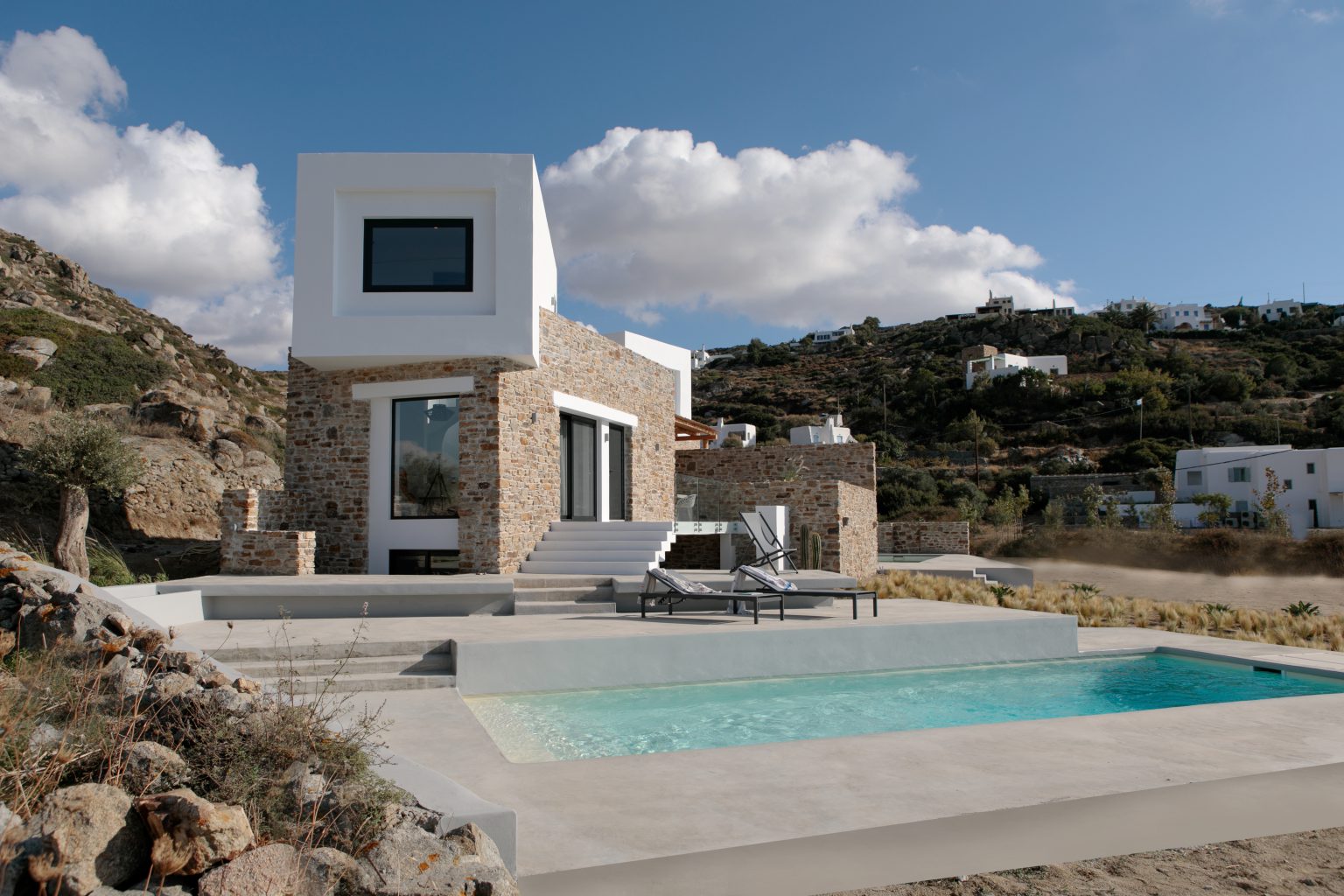 Villa Babu Naxos
New Luxury Beach Villa
Plaka & Orkos Beach
Private Pool
3 Bedrooms | 3 Bathrooms
Located just 50 meters back from the cove beaches of Orkos and a few minutes walk to the southern end of Plaka beach.
This brand new stylish 3 bedroom villa features a private pool, living area with a full kitchen, and spacious outdoor areas including a shaded dining terrace.
The area of Mikri Vigla is a 15-minute walk with a few tavernas, a bakery, a mini-market, and more amazing beaches.
View Villa Babu Naxos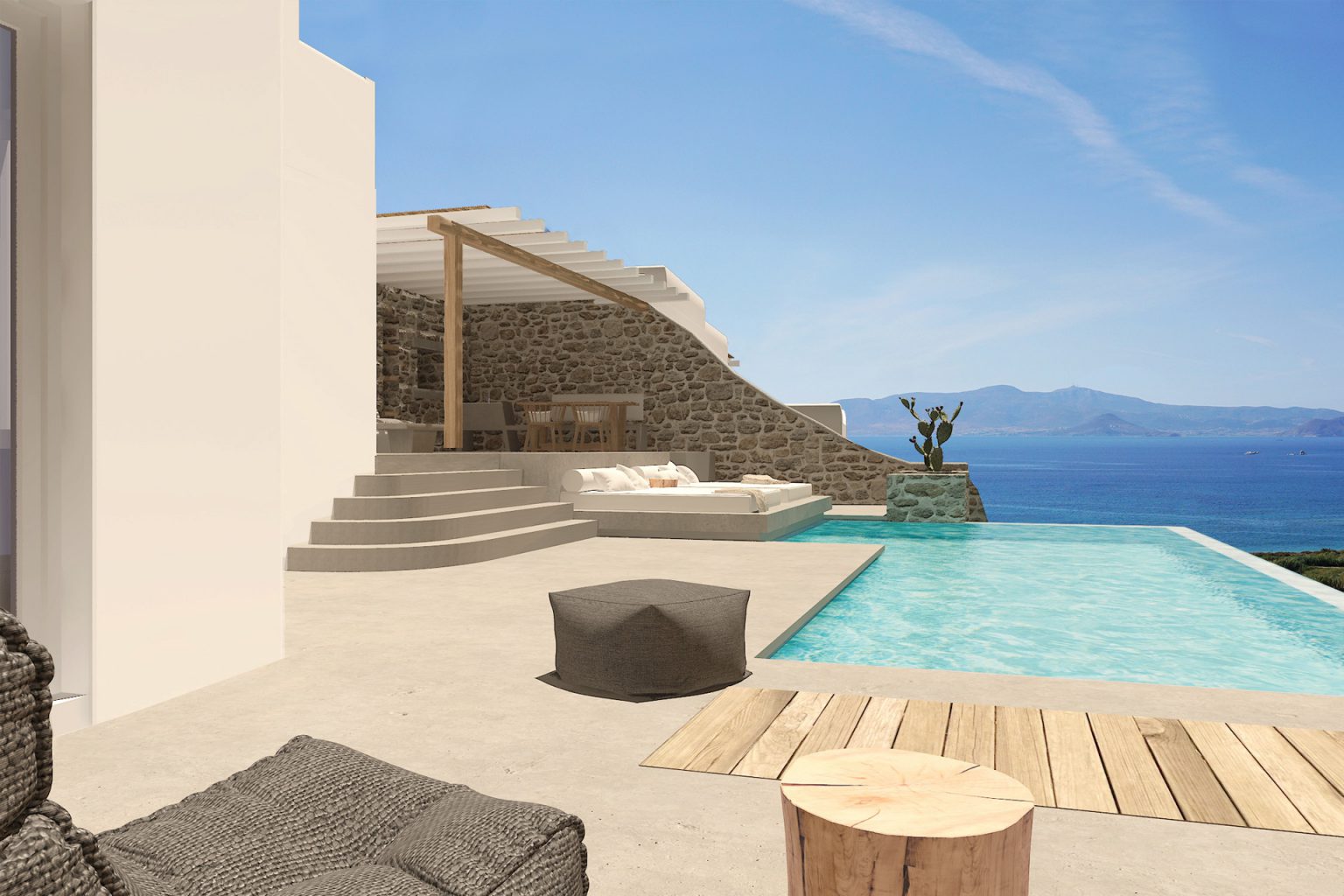 BV Villas Naxos
Panoramic Sea Views
Private Swimming Pools
2 & 3 Bedrooms
The fantastic beach of Plaka is just 1.5km from the villas.
A new collection of 3 quality villas all with a private pool and wonderful views of the west coast of Naxos looking across the nearby island of Paros.
The villas are furnished in modern style and built over 2 levels, they offer open-plan living areas with fully equipped kitchens.
Step outside onto the private terrace with pool, dining area, and breathtaking views.
View BV Villas Naxos
Paros
The island of Paros is now listed in the top 10 islands to visit in the world and it's for good reason.
Offering great beaches, atmospheric traditional villages, a number of interesting historical sights, and some excellent nightlife in both Naoussa or Parikia.
The nearby island of Antiparos is also worth a visit with its cute main town and quiet beaches.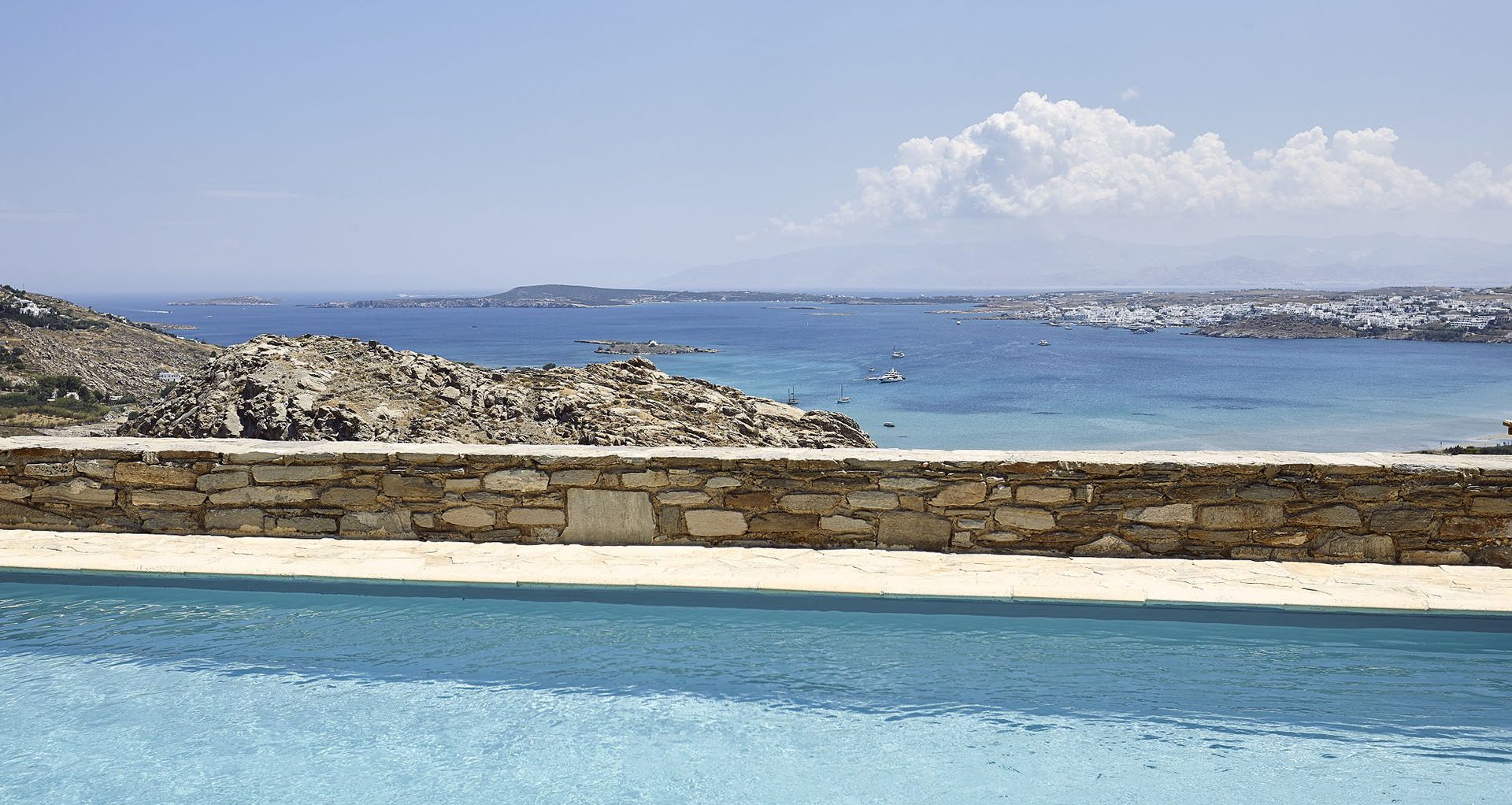 Kolympithres Villas
Views over the bay of Naoussa
Collection of villas with 2 to 5 bedrooms
Near the beaches of Kolympithres
Private Pools
A small collection of hillside villas built using local materials and offering wonderful views across to the village of Naoussa.
Each villa features a private pool, comfortable living accommodation including fully equipped kitchens.
Excellent swimming from below the villas and the charming village of Naoussa just a short drive away.
Ideal for families or groups of friends looking for a relaxing location.
View Kolympithreas Villas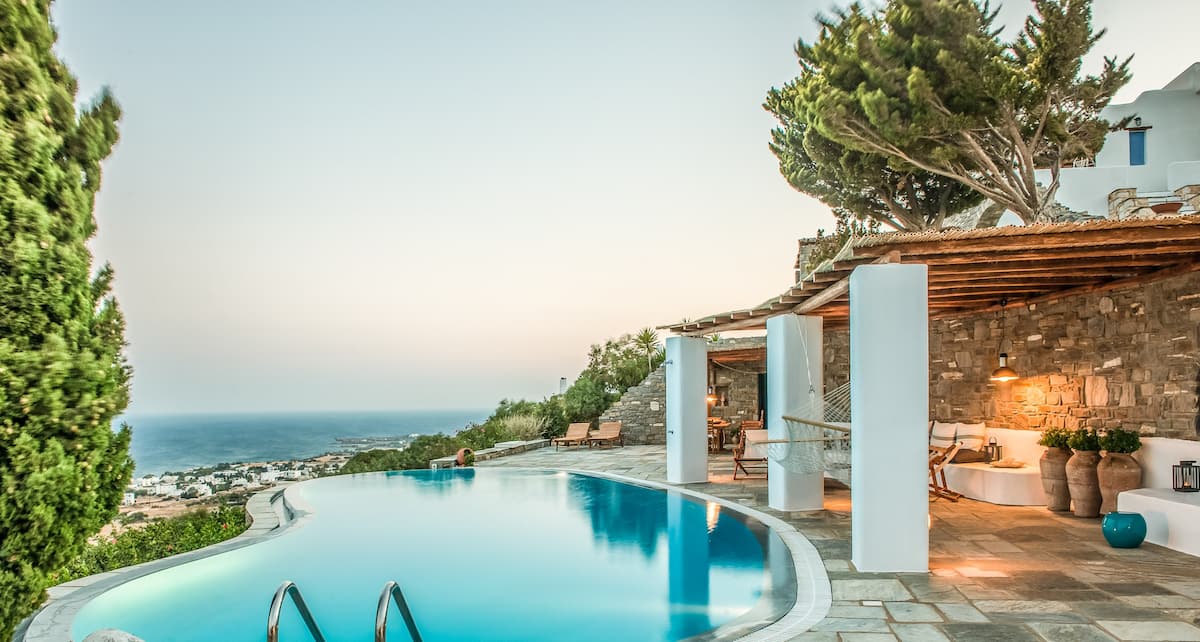 Drios Villa Paros
Hillside location
Private Swimming Pool
4 Bedrooms | Bathrooms 4
Near Beaches and Tavernas
Lovely family villa with 4 bedrooms, stylishly furnished accommodation, living areas, and a fully equipped modern kitchen.
Step outside onto a large spacious terrace with a freeform swimming pool, terrace dining area, and beautiful views over the sea looking towards the island of Naxos.
The village of Drios with a few excellent tavernas is just 2km from the villa and the windsurfing beach of Golden sands is just 1.8km.
View Drios Villa Paros
Rhodes
Rhodes has been welcoming visitors for many years and offers all the ingredients for a wonderful villa holiday with friends or family.
A visit to the Old Town of Rhodes is a must, this medieval walled city is one of the best-preserved in the whole of Europe and is a true wonder to simply wander through the streets.
The east coast has the best beaches with Faliraki, Tsambika, and Lindos offering an excellent choice.
Many new villas have been built in these areas and are perfect for all age groups including families with young children.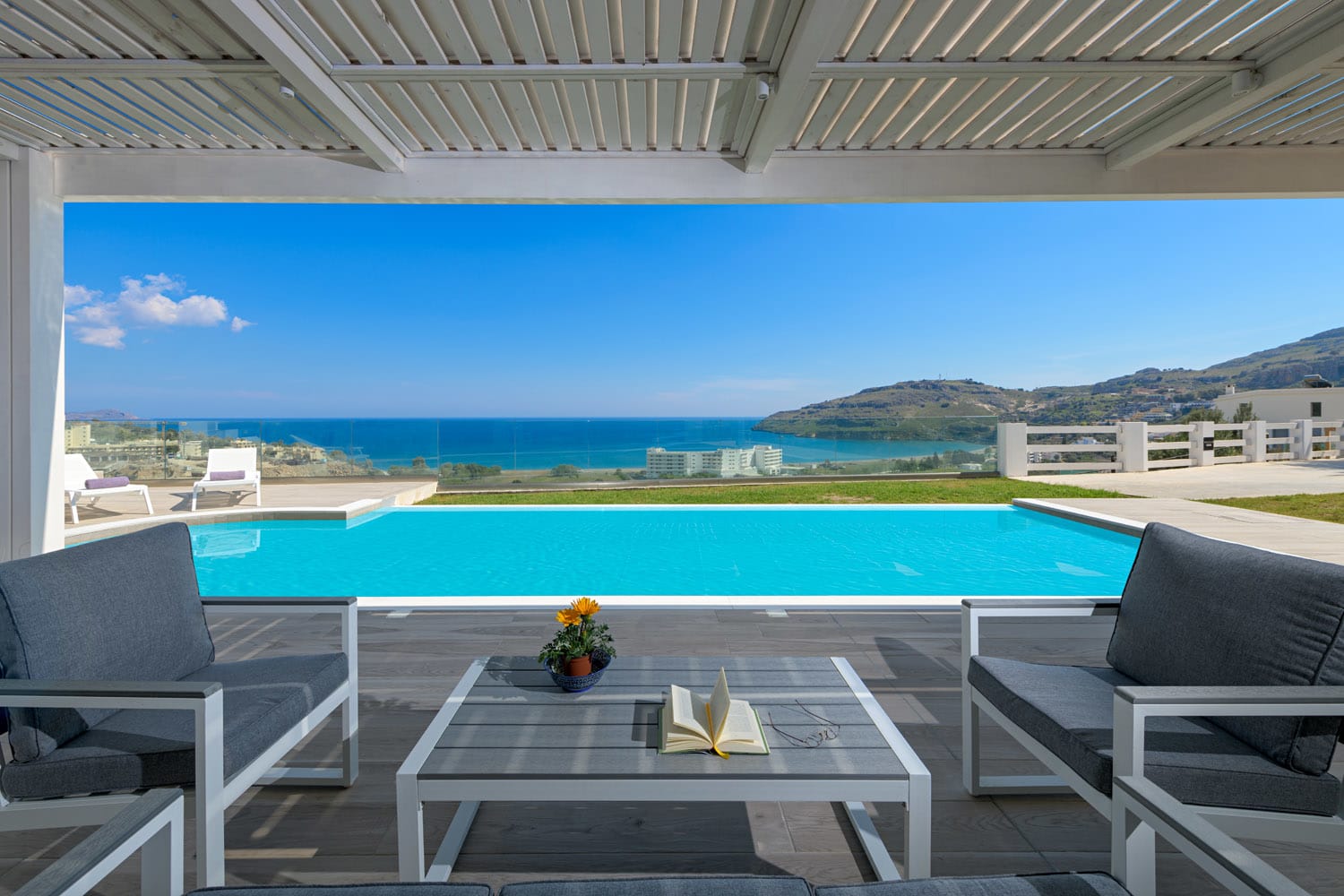 Lindos Luxury Villas
Panoramic Sea Views
Collection of villas with 3 bedrooms
All with private Pools
Lindos Traditional Village 2km
A stylish collection of 3 bedroom villas all with private pools and stunning sea views.
Each villa offers modern accommodation and features fully equipped modern kitchens.
The area offers a number of beautiful beaches including the beaches of Lindos and also the nearby beach of Tsambika.
Many tavernas, shops, cafes, mini markets, plus some good laid-back nightlife is available within a short distance.
View Kolympithreas Villas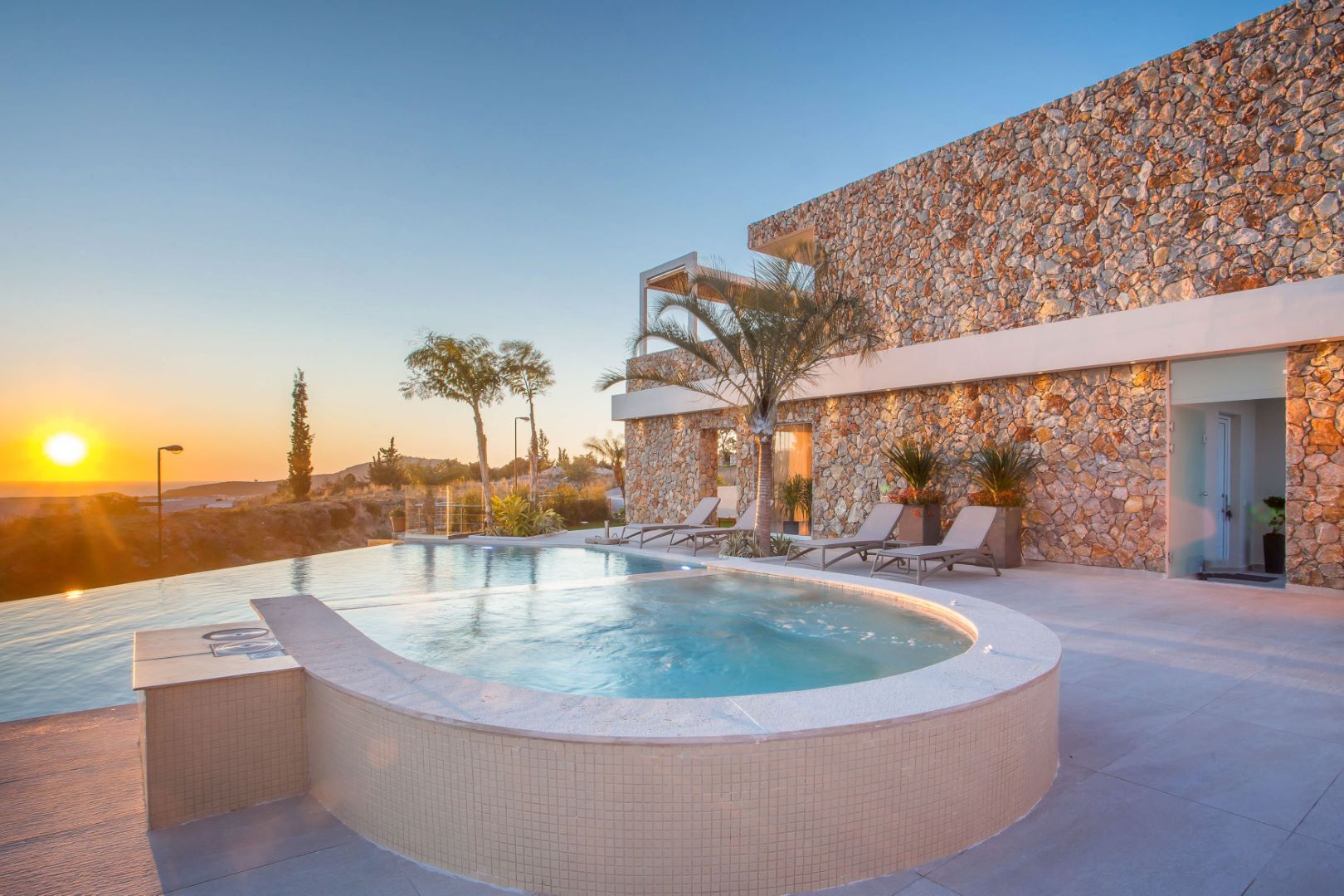 Luxury Hillside Villas Rhodes
Private Pools & Jacuzzi
Private Swimming Pool
2 & 3 Bedroom Villas
Near Beaches and Tavernas
Small complex of individual villas all with private pools and lovely views looking over the east coast of Rhodes.
These stylish villas are in a great location being close to Faliraki Beach and Anthony Quine bay with many tavernas within a short drive.
The villas have been furnished to a high standard and all have modern fully equipped kitchens.
Kalithea Spa is a 15-minute drive away and Rhodes Town can be reached in 30 minutes by car.
View Drios Villa Paros
Villa our collections of Villa Rentals in the Greek Islands